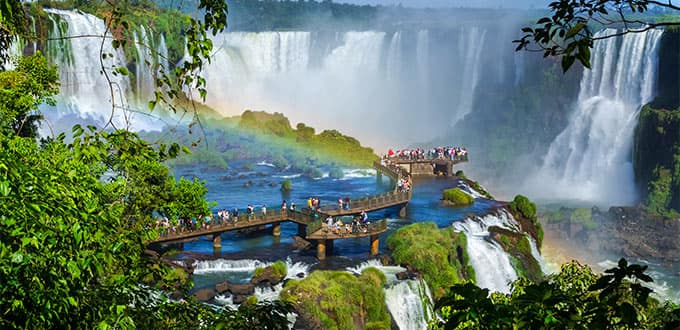 Full Day Iguazú Falls
Buenos Aires, Argentina
Duration 13 hrs
Fly to a national park on the border of Argentina and Brazil and behold the staggering power and beauty of Iguazú Falls by walking along trails and cat walks that give you extraordinary views of this amazing natural wonder.
After departing from the pier, you will transfer to the airport in Buenos Aires and fly directly to Iguazu, which lies inland near Iguazú National Park. The falls were discovered in 1541 by Alvar Núñez Cabeza de Vaca and established in 1984 as a Natural World Heritage Site by UNESCO. Situated in Iguazú National Park, the falls are shared by both Brazil and Argentina.
The massive cascade is made up of 275 separate waterfalls that thunder down sheer cliffs in a majestic display of nature's power. The falls are nearly twice as high and three times as wide as Niagara Falls, a fact not lost on Eleanor Roosevelt who reportedly said, "Poor Niagara," when she beheld roaring Iguazu.
You will observe this staggeringly beautiful, natural phenomenon by walking a path either above or below the falls. Both trails are extraordinary in their own way.
Then, following a buffet lunch at a restaurant within the park, you will ride an eco-train to Devil's Throat, which at more than 250 feet high is the single tallest waterfall within Iguazú. Once you are at the Devil's Throat Station, you will have to walk approximately a half mile on a flat catwalk built over the Upper Iguazu River. Once you get to the end of the catwalk, you will find yourself at a strategic lookout point that rests on the side of the spectacular Devil's Throat. It's truly a glorious sight that you will not soon forget. The surrounding rainforest is equally impressive, as it is home to about 2,000 plant species and 400 bird species, including toucans, parrots and peregrine falcons.
Following your Iguazu Falls adventure, you will fly back to Buenos Aires and transfer to your NCL designated hotel.
Need to Know:
Note: This tour includes approximately 5 hours of moderate to strenuous walking/standing that includes negotiating wooden cat walks, natural paths and cobblestone surfaces. The tour is not available to wheelchair guests or those with walking difficulties. Participants should be in good physical condition. Weather appropriate clothing; sun cap; sunglasses; sunscreen; and flat, comfortable walking shoes with a non-slip sole are recommended. The particular path taken may vary and the tour sequence and timing are dependent upon flight schedules. This tour must be purchased no later than 30 days prior to the operating date. Cancellations made within 30 days or less are subject to a 100% cancellation penalty. Programs falling under the minimum number of required participants are subject to cancellation.
This tour is with HOTEL DROP OFF. Guests who depart from Buenos Aires on the day of the tour cannot participate as they will not make it on time to connect with any international fight.
Adult from: €694,99 EUR
Child from: €694,99 EUR
Family Recommended

Meal