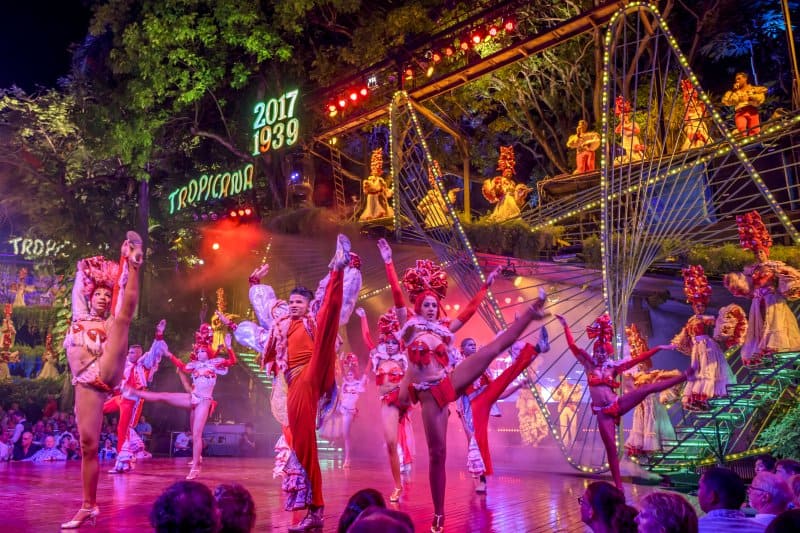 Besides exploring Havana like a local, a Cuba cruise offers some great nightlife choices including piano bars, jazz clubs and the world-famous Cabaret Tropicana in Havana. Let's take a look!
The Cabaret Tropicana Heydays
It all started in the Marianao neighborhood with a converted mansion on a lush tropical estate which opened its doors on December 30, 1939, as Club Tropicana, which also included a casino. Ownership changed hands a few times and admittedly there were some connections to the mob, but in the late 1950s, Club Tropicana was paired with Cubana Airlines for 1-day return flights from Miami to Havana.
Celebrities from around the world flocked to the Tropicana including the likes of Marilyn Monroe, Marlon Brando, and Edith Piaf, along with Frank Sinatra and Ernest Hemingway, to see headliners like Nat King Cole, Carmen Miranda, and Josephine Baker perform. Can you even imagine? The Cabaret Tropicana was the "It" place to be in the 50's and 60's. I wonder if they ever thought there would be cruises to Cuba… Times, they are a changing.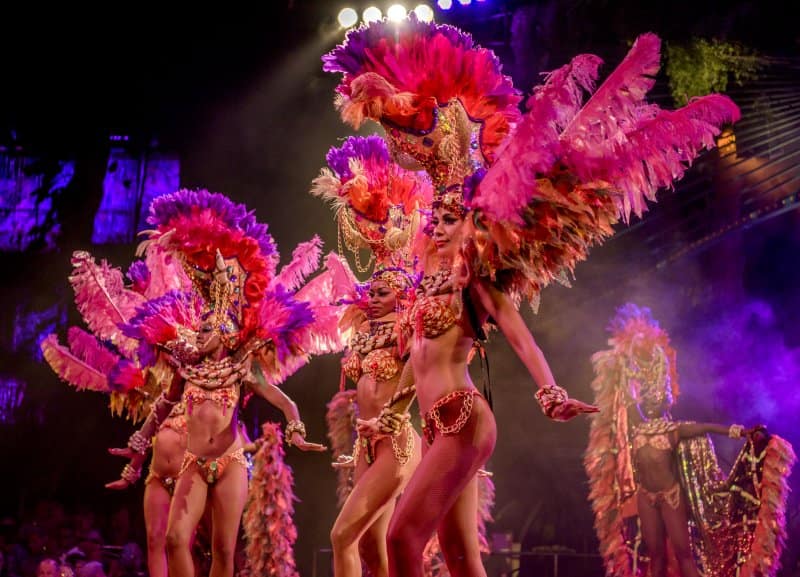 Why go to the Cabaret Tropicana Cuba?
If you love seeing Broadway-style shows on board your Norwegian Cruise Line ship or enjoy hitting the concert scene and live performances in Las Vegas, you can't cruise to Cuba without seeing the beautiful showgirls at the iconic Tropicana Cafe! You'll be treated to a fun-filled night of Cuban culture which includes a little bit of everything: fantastic colors, sultry rhythms, and a stunning production with a cast of more than 200 singers and dancers. Which leads us to…
The Famous Cabaret Tropicana Showgirls
World-renowned for their elaborate costumes: think towering feather headdresses and barely-there sequin bikinis - these hard-working Tropicana showgirls actually created the showgirl-era. The lavish costumes and vibrant performance styles quickly spread from Cuba to Las Vegas, New York, and even Paris. This dynamic Cuba club helped to spread Cuban culture on a level never seen before. And yes, of course, there are male performers, too!
Step Back in Time to Showgirl Revue Era
As of one of the most striking and largest nightclubs in all of Cuba, Cabaret Tropicana is about 8 miles from the Havana port. At the club door, men will be given cigars and women will be treated to roses. You'll sit with about 300 other patrons at long tables, where you can marvel at the lights, catwalks, and enchanting giant palm trees.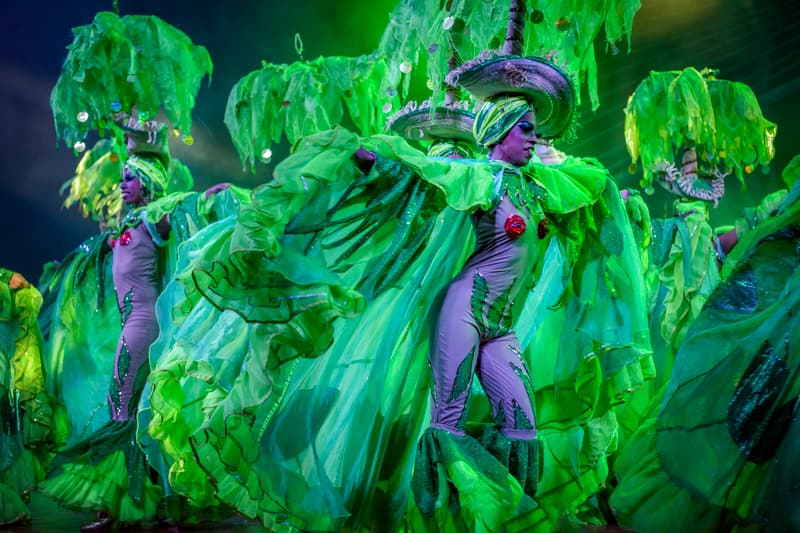 Tips for Visiting the Cabaret Tropicana in Havana
Participants must be at least 16 years of age.
Depending on the weather, the show can be performed outside under the stars or indoors.
Dress code: No shorts, t-shirts, or flip-flops for women or men, and no sandals for men. Note: according to Cabaret Tropicana's website, dress should be formal and elegant.
Your shore excursion to Cabaret Tropicana will be approximately 3 hours, so be sure to choose loose-fitting clothing made of lightweight fabrics so you'll be comfortable indoors or out.
If you plan to take photos during the show, there's a charge for that: recently noted as being 5 CUC (Cuban Convertible Pesos) or equally $5 US
This shore excursion is also OFAC compliant, so be sure to jot down your visit towards your certification under the People-to-People Program. Learn more about OFAC and the People-to-People Program by reading: Cruising to Cuba: What You Should Know.