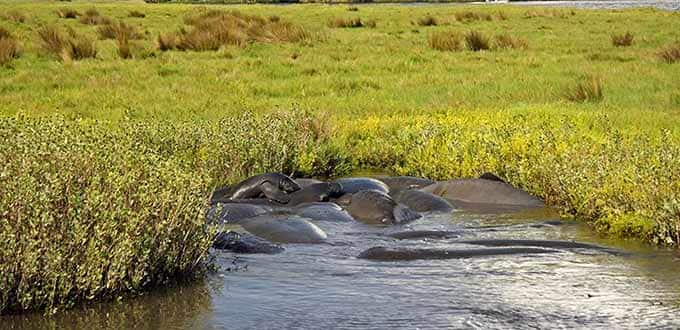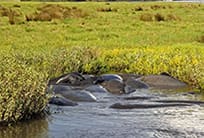 Placencia Lagoon Wildlife & Mangrove
Harvest Caye, Bélize
Durée : 1 h 1/2
This is your opportunity to explore amazing saltwater mangrove estuaries, encounter wildlife and learn about the flora and fauna from your nature guide.
Board your sightseeing motor launch directly from the Harvest Caye Marina to explore Mother Nature's amazing saltwater mangrove estuaries and its inhabitants. The seating in your motor launch is comfortable and the canopied top affords protection from the warm tropical sun, so just sit back, relax and enjoy the scenery. Your experienced captain will slowly maneuver your vessel out of the marina and onto the protected waters of the Placencia Lagoon. He will chart a course towards one of the shallow manatee hang-out areas. More often than not, manatees will be in these areas grazing and relaxing. Your knowledgeable onboard nature guide will provide you with a detailed narrative about the manatees and their life cycle in the tropical waters of Belize.
As your tranquil sightseeing tour continues traveling along the shore of the picturesque lagoon, your captain will enter one of the many mangrove estuaries. These placid creeks are lined on both sides with mangrove trees with their arching root systems and thick verdant green leaves as they provide habitat for many forms of life.
As the passage narrows, your guide will point-out numerous species of flora and fauna, ranging from marine life, to aquatic plants and trees. There will be many species of birds and at times, wildlife that that live on the tropical savannahs might be spotted - you never know what you might encounter.
Kick back, relax and enjoy a complimentary rum punch or water.
Before you realize it, your Captain is entering the marina and your enjoyable tour is drawing to an end. You'll have plenty of memories and beautiful photos to share with your family and friends.
Bon à savoir :
Note: Participants must be able to step on and off the vessel without assistance. Children under 3 years of age are not permitted on this tour.
Adult from: €48,25 EUR
Child from: €40,08 EUR
Recommandé pour les familles

Âge