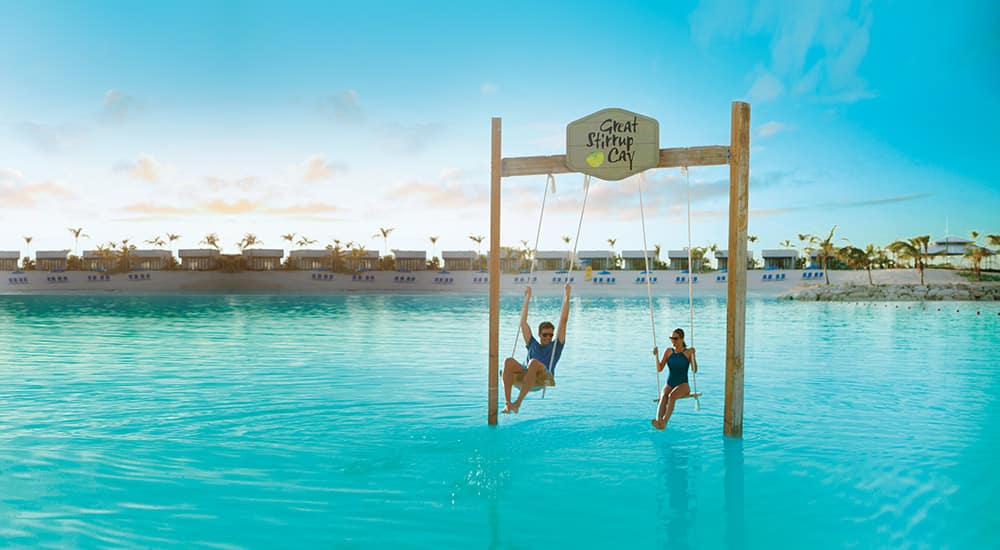 Tired of sitting at home staring at the same four walls? Need an escape from the doldrums of your day-to-day routine? What if there was a place that satisfied all your wildest vacation dreams? Well, there is! It's called Great Stirrup Cay, and it's yours to discover thanks to Norwegian Cruise Line. This resort-style private island features everything from beaches and water sports to refreshments and entertainment. It's a signature experience reserved solely for Norwegian's cruise guests. So, if you're ready to make your cruise dreams a reality, check out Norwegian's 2021 Great Stirrup Cay cruises now!
Prêt à planifier votre croisière ? Explore all 2021 Great Stirrup Cay cruises.
What Is Great Stirrup Cay?
Located in the Berry Islands, a chain of islands in the Bahamas, Great Stirrup Cay is one of Norwegian's most sought-after private-island escapes. As one of the first ventures of its kind in the cruise industry, Norwegian purchased the island in the 1970s and spared no expense developing the more than 250-acre piece of paradise into the ultimate vacation destination.
On top of that, the cruise line recently invested about $250 million to renovate, expand, and enhance the island's amenities, including the addition of a private lagoon and villas. With no permanent residents on the island or any other cruise lines allowed to dock at the island, Great Stirrup Cay offers a one-of-a-kind, exclusive experience designed with you in mind. What more can you ask for?
Things To Do on Great Stirrup Cay
1. Lounge & Relax
If we're completely honest, lounging around is one of the best things to do on Great Stirrup Cay. Grab a beach towel, pull up a chair, and settle in for a day of sun and sand. For complete privacy, reserve one of the luxurious villas at Silver Cove and take relaxation to the next level. Each villa features complimentary on-demand movies, access to an upscale buffet, your own restroom, air conditioning, and a retractable glass wall with unobstructed views of the beach.
2. Have an Adventure
Looking for something a little more adventurous? How does swimming with pigs sound to you? Your Norwegian excursion begins with a 10-minute boat ride to nearby Treasure Island where you'll receive a few quick tips about the best ways to interact with the pigs before hopping in the water for the experience of a lifetime. Other fun activities on the island include zip lining, parasailing, snorkeling, and WaveRunner tours.
3. Enjoy Bites & Beverages
Do you fancy yourself a foodie? Eating your way around the island is another amazing way to spend your time at Great Stirrup Cay. Build your own taco at Abaco Taco, or grab a bite at the new 8,500-square-foot beach buffet that serves up burgers, hot dogs, pizza, salads, chicken, fruits, and so much more.
CROISIÈRES SUR CE THÈME :
7-Day Bahamas Cruise to Great Stirrup Cay from New York
4-Day Bahamas Cruise to Great Stirrup Cay from Miami
2021 Cruises to Great Stirrup Cay
When it comes to Bahamas cruises, Norwegian offers a wide range of itineraries and options throughout 2021, and every single one of them features a full day in Great Stirrup Cay. Do you only have enough time for a short break? Check out the three- and four-day sailings from Miami and Orlando, Florida. Each cruise also features fun stops at Nassau and Grand Bahama Island, depending on your itinerary. For cruisers with more wiggle room in their schedules, the seven-day Bahamas: Great Stirrup Cay, Orlando & Nassau cruise from New York checks every item on your vacation bucket list and then some.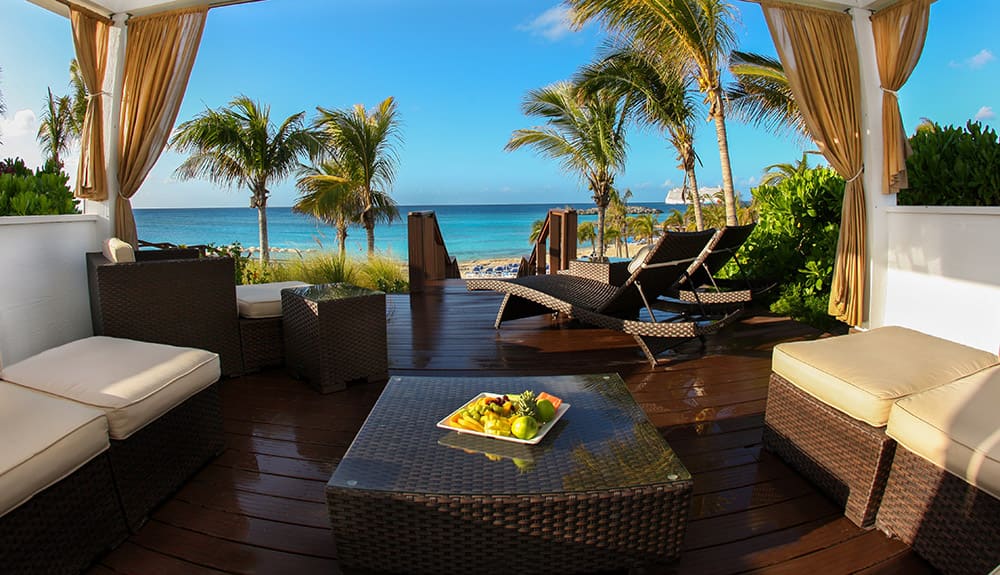 Ships Cruising to Great Stirrup Cay
Did you know that nine ships in Norwegian's award-winning fleet sail to Great Stirrup Cay? Find your ticket to paradise on one of these amazing ships:
Norwegian Encore – Experience nonstop memorable moments on Norwegian Encore, the newest and most incredible ship in the fleet, featuring the largest race track at sea, an otherworldly virtual reality wonderland, and spectacular nightly shows.
Norwegian Escape – As one of the most exciting ships on the ocean, Norwegian Escape earned the honor of 2017 Ship of the Year from Ocean & Cruise News.
Norwegian Gem – With loads of amazing dining options, spaces built just for kids, and luxurious, romantic, and affordable suites, Norwegian Gem has it all.
Norwegian Getaway – From the open-air promenade to the more than 28 dining options and the thrill of five water slides, Norwegian Getaway aims to please all kinds of cruisers.
Norwegian Jade – Head out on the adventure of a lifetime, thanks to the exciting nightclubs, award-winning restaurants, fun-filled swimming pools, serene spa experiences, and other fun activities aboard Norwegian Jade.
Norwegian Joy – Experience exciting thrills at sea on Norwegian Joy's two-level race track, or get pampered in luxury in the new, beautifully appointed Concierge accommodations.
Norwegian Pearl – Experience the wonders of Norwegian Pearl's 16 delicious dining options, 15 bars and lounges, and spacious Garden Villas that make this cruise ship a destination of its own.
Norwegian Sky – Refurbished from bow to stern in 2019, Norwegian Sky boasts all-day fun for your kids and world-class evening entertainment.
Norwegian Sun – The recently refurbished Norwegian Sun features a variety of delicious dining options, upbeat bars and lounges, relaxing spa experiences, and the always-exciting Sun Club Casino.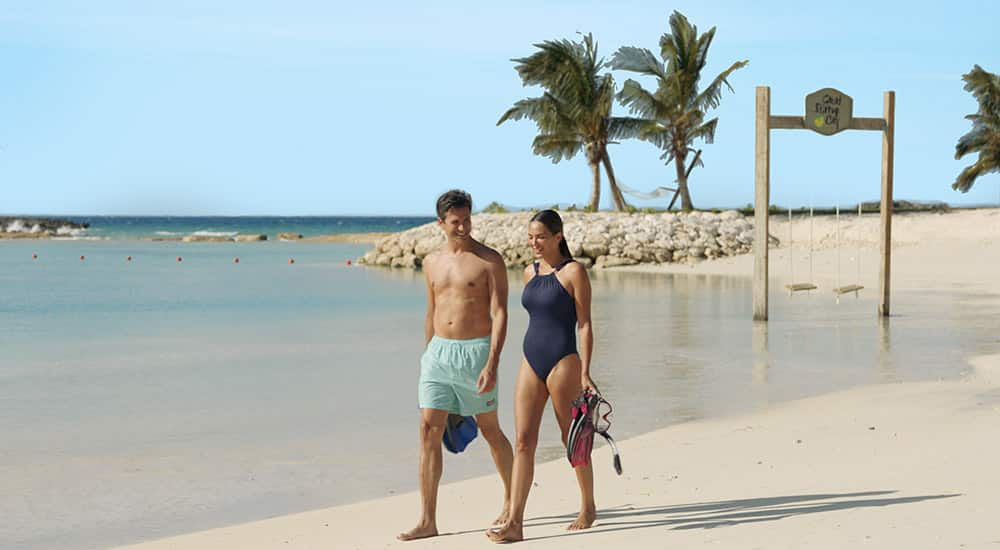 If you're dreaming of soaking up the sun on a white-sand beach or frolicking in pristine waters, what are you waiting for? Book one of Norwegian's 2021 Great Stirrup Cay cruises and make all your dreams come true. Want more? You got it! Visit the Norwegian website for even more information about Great Stirrup Cay, 2021 Bahamas cruises, and all the latest cruise deals, perks, and details about flexible booking policies.