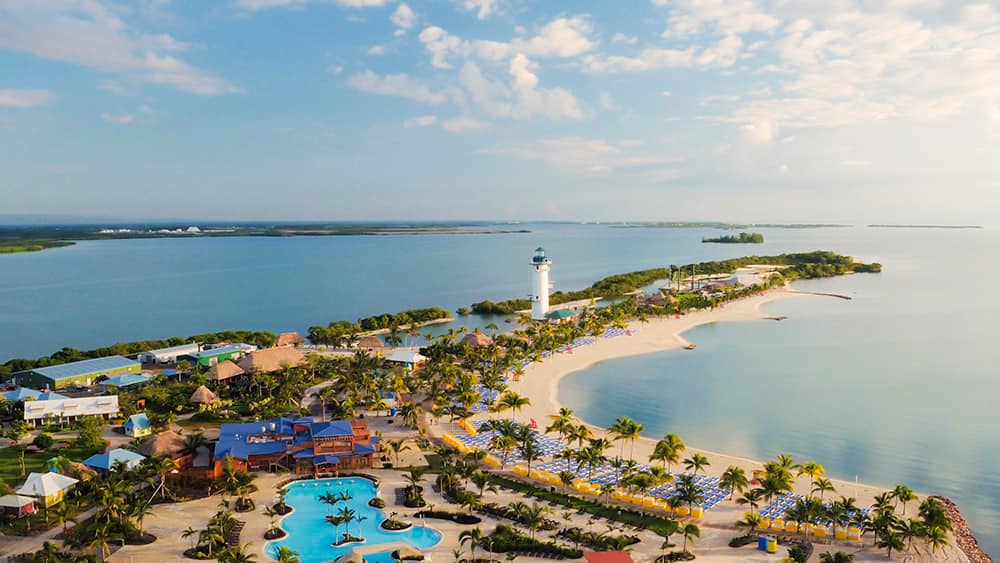 Picture this! You're basking in the sun on a sandy beach with nothing but blue skies overhead and an ice-cold beverage in your hand. Or maybe you're on a heart-pounding zip-line ride, whipping through the lush rain forest at high speeds. Or perhaps you're sailing on a glass-bottom boat, gazing at the colorful fish that make their home in the world's largest living barrier reef. Whether you're in the mood for rest and relaxation, a breathtaking nature excursion, or a thrilling adventure, you'll find it at Harvest Caye.
Only Norwegian Cruise Line gives you the chance to explore the unmatched beauty found on the island of Harvest Caye. If you're looking for the ultimate island escape, keep reading to find out more about Norwegian's 2021 Harvest Caye cruises.
Prêt à planifier votre croisière ? Explore all 2021 Harvest Caye cruises.
What Is Harvest Caye?
Located just five miles off the shore of Placencia in southern Belize, Harvest Caye offers a premier resort-style experience packed into a 75-acre private island getaway. Available exclusively to Norwegian cruise guests, Harvest Caye earned the honor of the best new cruise port in The Caribbean in 2017 from Porthole Magazine.
At just one mile long and 400 feet wide, Harvest Caye is easily walkable for most people, making it possible for you to check out the entire island in just one day. The island also offers easy access to the mainland, giving you the chance to explore even more of the area - the choice is yours!
Norwegian invested four years of labor and upwards of $50 million dollars to create a truly authentic Caribbean experience on the island. Developed in partnership with the Belize government, Norwegian took great care to preserve the island's natural beauty. On top of that, Harvest Caye features locally-owned shops, restaurants, artwork, traditional performances, and other amenities as a way to help support the local economy.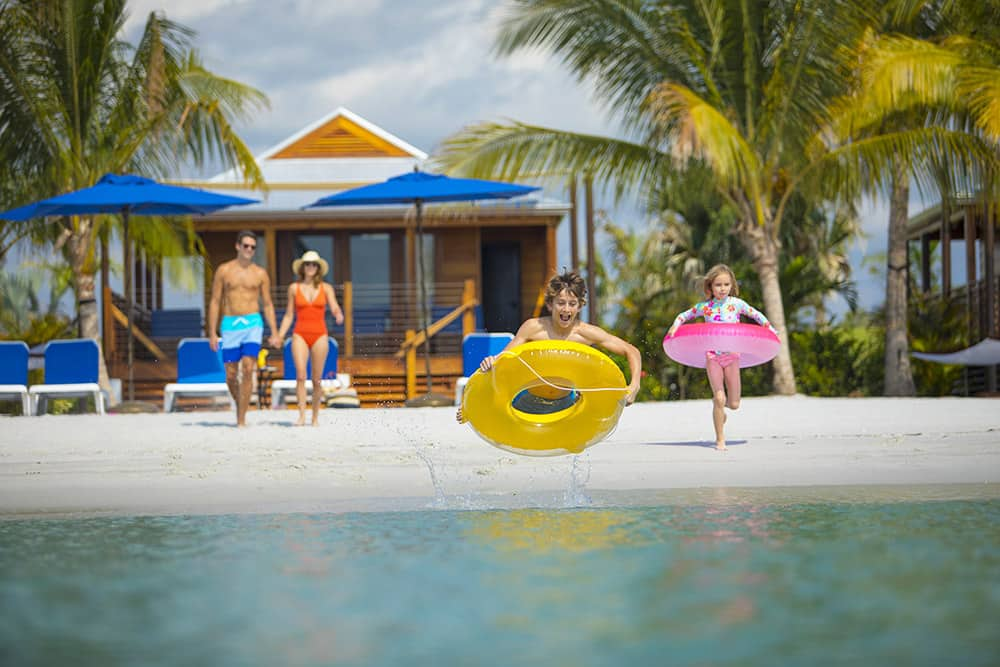 Things To Do in Harvest Caye
Wondering how to spend your time in Harvest Caye? Trust us when we say there's plenty of exciting activities to keep you occupied all day long ... and then some. If taking a refreshing dip sounds right up your alley, check out the free 15,000-square-foot swimming pool located just steps from the ship's dock and welcome center.
Complete with loads of lounge chairs, a swim-up bar, and an open-air restaurant, the pool presents the perfect place to kick back and relax. If sun and sand are more your cup of tea, make your way to the white-sand beach and turquoise-blue waters just a hop, skip, and a jump from the pool.
Want more? You got it! Check out the top-notch shore excursions handpicked by the Norwegian team. Visit authentic Maya ruins, try your hand at catch-and-release fishing, or even search for wildlife on an eco-tour along the winding Monkey River. Prefer to splash around in the water? Why not rent a pedal boat, stand-up paddleboard, or kayak for the day?
2021 Cruises To Harvest Caye
Norwegian offers a range of 2021 Harvest Caye cruises, giving you plenty of choices when it comes to what you want to see and where you want to go in addition to enjoying the idyllic private island. Popular itineraries include five-, six-, or seven-day Western Caribbean cruises from Miami. Ports of call include Roatán in the Bay Islands and Costa Maya and Cozumel in Mexico.
Looking for a unique cruise experience that takes you off the beaten path? Check out the incredible 12-Day Picturesque Panama Canal, Costa Rica, and Cartagena or 11-Day Panama Canal: Mexico, Costa Rica & Belize cruise itineraries from Miami. In addition to visiting the Panama canal, your cruise stops in ports such as Cartagena, Colombia, Colón, Panama, Puerto Limon, Costa Rica, and George Town, Grand Cayman. Talk about making memories that last a lifetime!
Cruise Ships Sailing To Harvest Caye
As one of the newest ports of call on Norwegian's Caribbean cruise and Belize cruise itineraries, Harvest Caye is also one of the most sought-after stops. As a result, 10 of the award-winning ships in Norwegian's fleet cruise to this bucket-list destination! Given their capacity of fewer than 2,500 guests per ship, Norwegian Dawn, Norwegian Star, Norwegian Pearl, Norwegian Sky, Norwegian Jewel, and Norwegian Jade offer a more intimate cruise experience. Meanwhile, Norwegian Getaway, Norwegian Breakaway, Norwegian Encore, and Norwegian Joy serve up a host of exciting itineraries with capacity for about 4,000 cruisers each!
Regardless of which cruise ship you choose, each one features nonstop fun. Enjoy the freedom and flexibility of Norwegian's Freestyle Dining in any of the main dining rooms, as well as at the well-stocked buffet, casual cafes, grills, and grab-and-go eateries. Revel in the spectacular entertainment, from Cirque du Soleil performances to Broadway hits.
Cap off your evening with drinks and dancing at any of the up to 22 bars and lounges on board. Did we mention each ship also features several pools, a relaxing spa, a best-in-class Casino experience, a world-class art gallery, and duty-free shopping? You'll have just as much fun on the ship as you do exploring the wonders of Harvest Caye.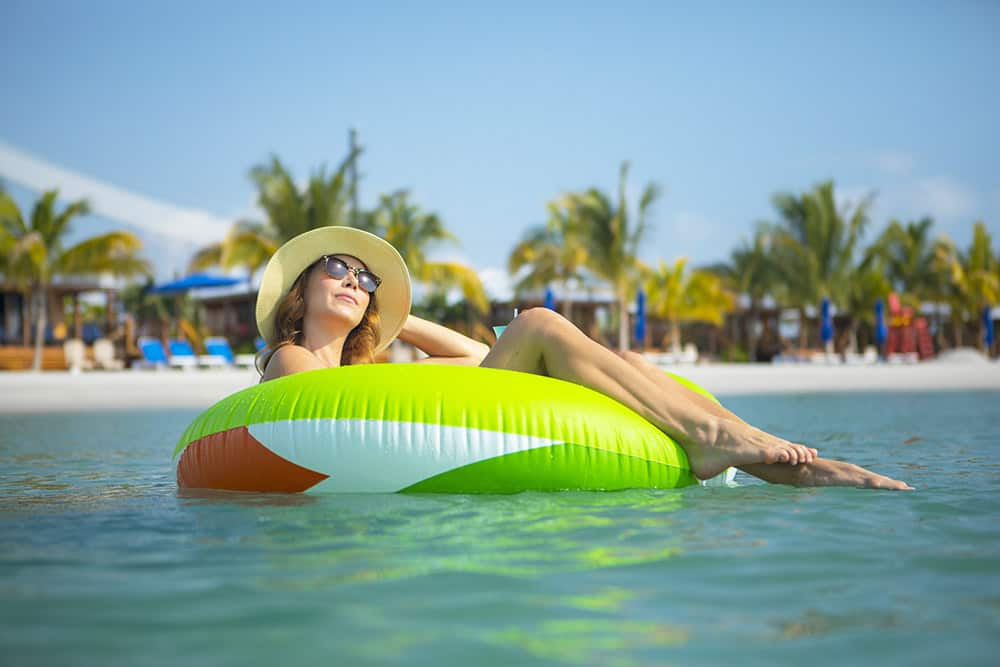 When it comes to the perfect island escape, Harvest Caye offers something for everyone. Whether you're a history buff in search of a cultural experience, a thrill-seeker looking for the ultimate adventure, a nature enthusiast who loves outdoor activities, or someone who simply needs a relaxing beach break from reality, you'll find it all on Norwegian's 2021 Harvest Caye cruises. Check out all the amazing Caribbean and Belize cruises on the Norwegian website. While you're visiting our site, be sure to sign up for the Norwegian newsletter to stay up to date on all the least cruise news and deals.