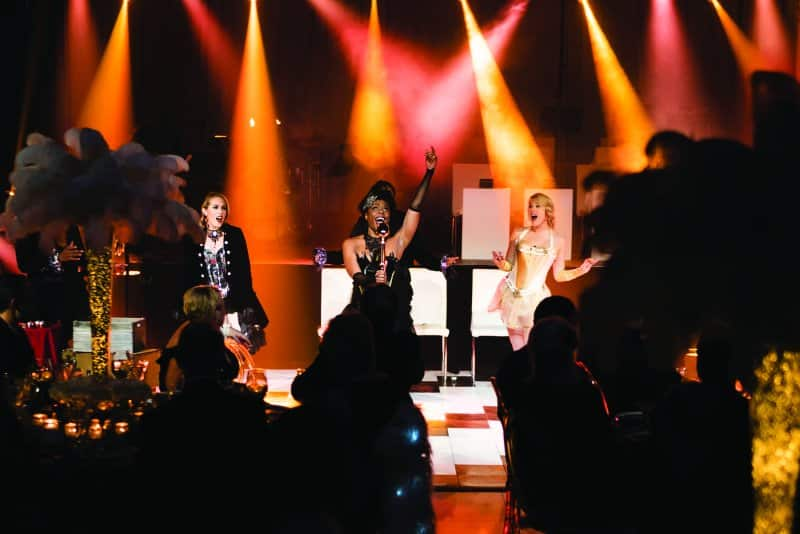 An exclusive review by Don & Heidi Bucolo of EatSleepCruise.com
While Norwegian Bliss is home to many well-known bars and lounges, there is one you will not find listed in your Freestyle Daily. In fact, if you are not careful you could miss it entirely. This locale is Mahogany Hall, an early 20th-century speakeasy where the whiskey flows freely. On several nights of your cruise, the Social comedy club is transformed into the self-proclaimed "classiest illegal joint in New Orleans." For a cover charge, cruisers can reserve a coveted seat in this famed Storyville speakeasy to be mesmerized by Madam Lulu White and her bevy of beauties.
Happy Hour Prohibition - The Musical is a one-of-a-kind interactive experience that is exclusive to Norwegian Bliss and will soon be available on Norwegian Encore. Once you step through the doors, you will be transported to the eve of Prohibition. For those looking for a good time, be sure to slip into Mahogany Hall to get up close and personal with the seductive singers and dancers. The one-hour production is a playful performance during which the all-female cast tantalizes the audience with a sultry mix of music, dance, and comedy.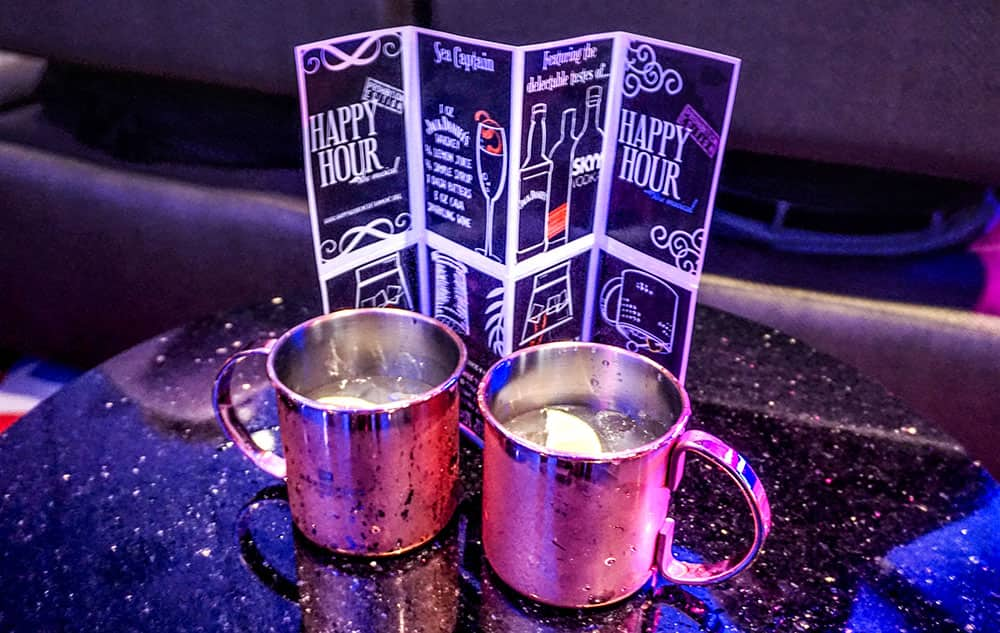 Featuring a variety of era-specific music and costumes, Madam Lulu's underground watering hole has no choice but to dispose of all its liquor before the end of the night. This is where the audience can help. As part of your cover charge, all patrons receive five classic cocktails including the Moscow Mule, Old Fashioned, the HHP Mint Julep, Whiskey Sour, and the Sea Captain. The drinking starts as soon as you enter the Hall, as servers are there to greet you with a cocktail and a smile.
The night starts off with the sexy Bessie Bourbon who welcomes you to the show. Before long, the stage lights up with the other famed females strutting their stuff to some infectious jazz tunes. You will be tantalized by all of Miss Lulu's girls, including Fleur de Lis, the fiery ringmaster of Storyville, and the graceful Le Cygne, the Hall's resident ballerina.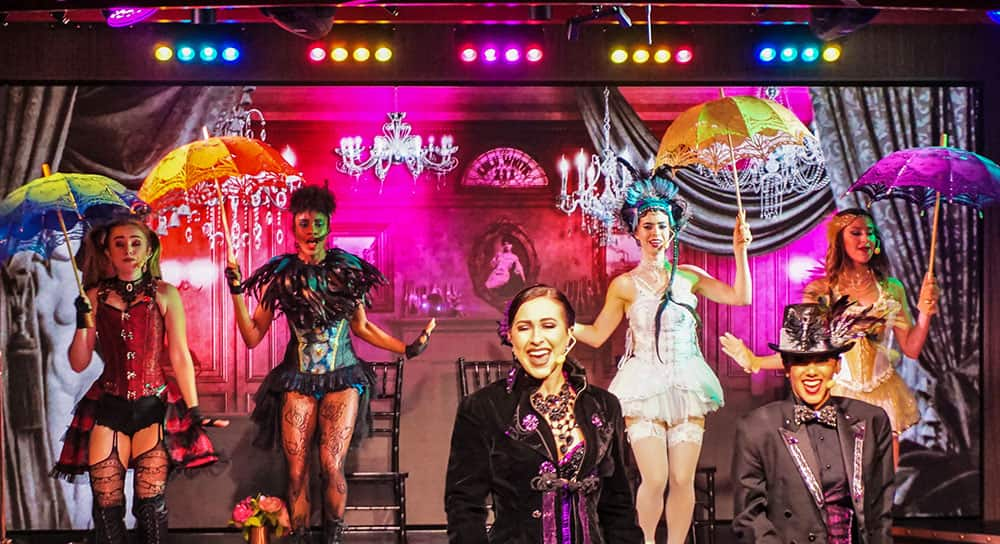 With just the right amount of theming and innuendo, this well-timed and exquisitely performed show will have you begging for more. It doesn't hurt that along with the performances, the cast is encouraging the patrons to continue drinking the four additional cocktails that are served.
While the show is intended for mature audiences, the crowd during our performance included adult cruisers of all ages who were game for a little cheeky fun. If you are a bit shy, we suggest sitting towards the back of the venue, as the girls are quite fond of interacting with cruisers toward the front of the room.
If you are lucky enough to be chosen by one of Miss Lulu's Girls, you will be swept away for an unforgettable finale. Unfortunately, like all good things, the show must come to an end.
Norwegian Cruise Line has broken the mold once again when it comes to onboard ship entertainment with Happy Hour Prohibition. This one-of-a-kind musical production is certainly one stop you do not want to overlook when cruising on Norwegian Bliss. Grab some friends who are ready for a bit of a risqué evening, and join Madam Lulu and her girls of Mahogany Hall to toast to "the end of the world." The only password you need for this speakeasy is a good time!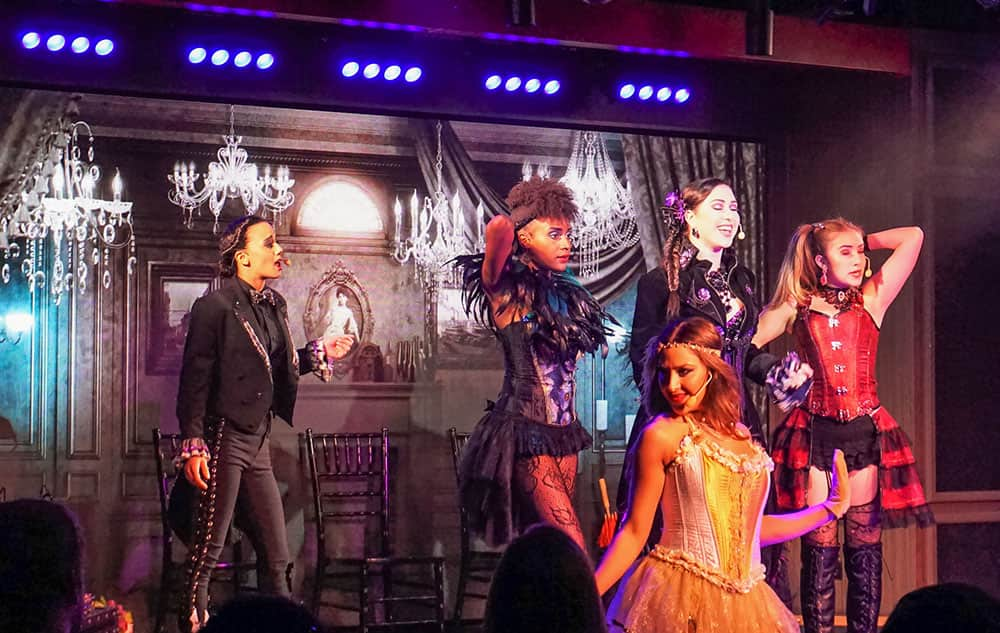 Photo Credit: All photos except for header image provided by EatSleepCruise.com
À propos de nous
We are Don and Heidi Bucolo, the husband and wife team behind EatSleepCruise.com. We took our first cruise vacation together 11 years ago and have been hooked ever since. Fellow travelers have come to know and love our signature cruise reviews, cruise tips and planning advice, hotel reviews, port guides, shore excursions reviews, and more. In 2017, we were rated as one of the top 25 socially shared cruise blogs of the year and served as cruise expert advisers to USA Today's 10 Best Readers' Choice Awards, among other accolades.