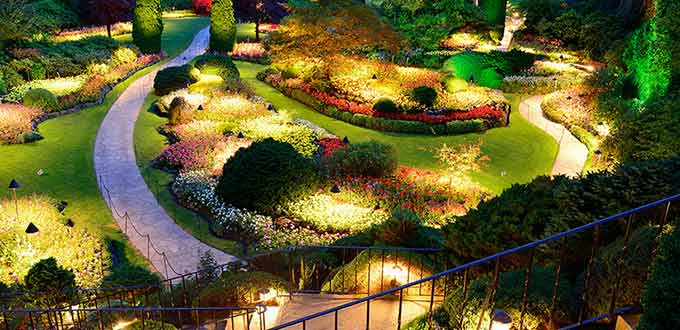 Enchanting Butchart Gardens Evening
ויקטוריה, קולומביה הבריטית
Duration 3 hrs
This tour offers the very best of Victoria, combining the city's unique highlights with a visit to the world famous Butchart Gardens. Take in Chinatown and the Gates of Harmonious Interest, along with the Old Town and scenic Marine Drive.
At Butchart Gardens, see how the Butchart family transformed a barren rock quarry into what is now one of the world's best-known horticultural attractions, covering more than 55 acres. The gardens are a lush paradise of flowers, rare trees and winding paths and were created more than 100 years ago.
Enjoy the cascading fountains and footbridges connecting the many themed gardens, including the beautiful Sunken Garden, the Japanese Garden and the Rose Garden. Multi-language maps will assist you on your self-guided tour.
The gardens are illuminated by thousands of hidden lights from mid-May to mid-June and from mid-August to mid-September.
Need to Know:
Note: Walking time and distance is at guest's discretion, approximately 1 to 1.5 miles and up to 150 steps. Stairs, uneven terrain and steep inclines can be avoided by following routes marked accessible. If visiting when the gardens are illuminated by lights – you'll be able see the flowers close to the pathways but not the back beds. You'll be at the gardens for about 1 hour and 45 minutes. .
Adult from: $109.00 USD
Child from: $59.00 USD
מומלץ למשפחות

נגישות