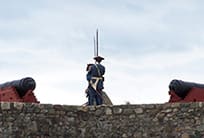 Fortress Of Louisbourg
סידני, אי קייפ בריטון, נובה סקוטיה
Duration 3 3/4 hrs
Start your journey with an introduction to the port of Sydney and a panoramic drive through the historic North End. Once acquainted with the area, step back in time to 1744 and experience the Fortress of Louisbourg—the largest fortified town outside of Europe. Louisbourg was once a thriving seaport and capital of Île Royale (Cape Breton Island). —the third busiest harbour in North America and one of France's key centers of trade and military strength in the New World. Situated along a rocky Atlantic coastline, the site now serves as an exciting and entertaining lesson in Canadian, American, French and British history. You'll see a selection of buildings and exhibits as costumed actors reenact the lives of specific individuals residing here during the pre-siege era.
Experience the life of a military officer as you visit the home of Captain and Madame DeGannes. Discuss household duties with the servant in the Engineer's Residence and discover some tip and tricks for open-hearth cooking (which every domestic cook needs to know); then wander up to the spectacular chapel in the King's Bastion. If you're interested, stop and talk to a soldier about his guard duty, living conditions, security and (most interestingly) diet.
חשוב לדעת:
Note: The Fortress operates slightly differently during Shoulder season and Peak season dates by the end of June, the site will begin to fill with more costumed interpreters as they ramp up for peak season. After Labour Day, the Fortress of Louisbourg winds down once again with a decrease in the number of costumed animators interpreting the buildings & displays.
Involves a considerable amount of walking. Wear comfortable walking shoes and dress warmly; a jacket or windbreaker is highly recommended.
Walking at your leisure on uneven grassy inclines, wooden decking, beaten pathways and cobblestone. Terrain at the fortress may be difficult for wheelchair users to navigate. This tour is not recommended for persons with special mobility needs or wheelchairs. Wear sturdy walking shoes and dress warmly, bring a jacket or windbreaker.
Adult from: $89.00 USD
Child from: $55.00 USD