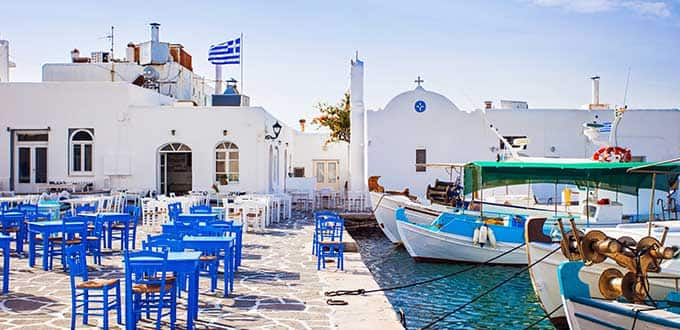 Highlights of Paros
פארוס, יוון
Duration 3 1/2 hrs
Discover the considerable charms of two classic Greek villages, beginning with Naousa, where life revolves around the sea. As you walk along the waterfront, you will likely see traditional wooden fishing boats known as caiques. Their colors will look particularly bold against the backdrop of the whitewashed, low-slung village. You may also spot the remains of a Venetian fortress and the Church of the Assumption of the Virgin, which sits atop the village's highest point. Further inland, you will find the whitewashed village of Lefkes, which was the capital of Patmos Island during the Ottoman rule. As you stroll the labyrinthine alleyways, passing beautiful Venetian-influenced homes, be sure to gaze out over the olive groves that blanket the hills. You may also spot the Holy Trinity church, which was constructed with locally quarried white marble. Later, you will see the so-called Church of 100 Doors, an early Christian landmark. Ask about the legend associated with the 100th door.
HIGHLIGHTS:
• Meander through the lovely fishing village of Naousa, which is surprisingly cosmopolitan. • Walk the winding alleyways of Lefkes, an inland village that offers extraordinary views. • Hear the legend behind the name of the Church of 100 Doors, an early-Christian site.
חשוב לדעת:
Note: This tour includes approximately 3 hours of walking. It is available to guests with limited mobility who utilize a collapsible wheelchair, can make their way on and off the coach and have a companion to assist them.
Adult from: $89.00 USD
Child from: $79.00 USD