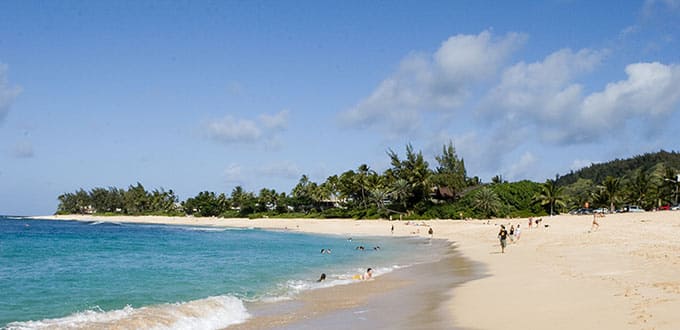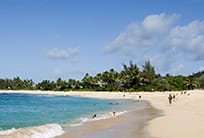 Explore Oahu's Famous North Shore (Airport Drop Off)
הונולולו, אואהו
Duration 5 hrs
Discover Oahu's North Shore – surf mecca and home to the perfect wave. Travel past pineapple and sugar cane fields to the island's well-known surfing beaches, stretching for seven miles along this coast. They include Waimea Bay, a prominent spot in the early days of big wave surfing in the 1950's, two-mile-long Sunset Beach, and the Banzai Pipeline, where waves breaking over a sharp reef make it one of the world's most dangerous surfing scenes.
Continue past shrimp farms, and catch a glimpse of the small island known as Chinaman's Hat for its interesting shape. Shop for irresistible macadamia nuts and other local products at the Macadamia Nut Farm Outlet. On your way to the airport drop by the Byodo Temple, a scale replica of a temple in Japan constructed entirely without nails and surrounded by a lovely and tranquil garden.
חשוב לדעת:
Note: It is recommended to book this excursion AFTER you have your flight information in order to avoid cancellation. Tour begins approximate 1 hour after ships' arrival with a duration of about 5 hours. Suggested flight departure should begin no sooner than 3 hours after tour completion. This tour is only offered to guests with flights after 5:00 pm. Guests are responsible for ensuring their debarkation tours are compatible with their flight departure times. Guests have the option to book their flights through our Premium Air Department to ensure that flight departure times do not interfere with debark tours. You may experience some tour delays due to surfing competitions in the winter season November-February.
Adult from: $109.00 USD
Child from: $89.00 USD
ירידה מהסיפון

נגישות