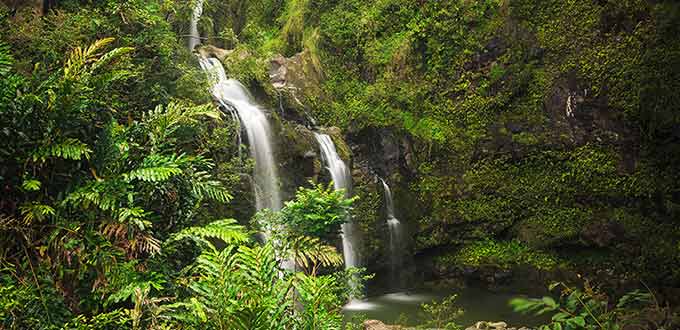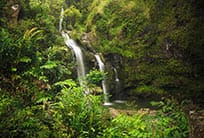 Road to Hana Deluxe
קאהולוי, מאווי
Duration 8 hrs
Sit back and appreciate all of the sights along the famed Hana Highway without having to navigate the curves yourself. Travel over bridges and along the twisting road in the air-conditioned comfort of an exclusive 8-passenger luxury limo-van.
Enjoy pastries and beverages at either Ho'okipa or Kaumanhina where your journey to Hana begins.
Then relax and take in the incredible scenery of lava cliffs, tumbling waterfalls, lush hillsides of feathery ferns, and trees laden with tropical fruit. You'll have plenty of photo opportunities and time to explore at a leisurely pace, with many stops made along this spectacular coastal drive. We do not stop at Seven Sacred Pools. Guests are offered an opportunity to swim at, either, Pua'a Ka'a ( waterfall ) or at Waianapanapa ( black sand beach ) but not both. Swimming opportunity will be based on safety conditions.
Investigate the Keanae Peninsula, one of the last enclaves of native Hawaiians. Here tranquil taro fields and Waikani Falls, a cascade of fresh mountain rainwater, are just some of the sights for you to enjoy. It's also the perfect place for you to learn about the native Hawaiian people, their culture and the land they call home.
חשוב לדעת:
Note: Participants must be at least 6 years of age. Not recommended for guests prone to motion sickness.Lunch is included, and there is time for you to stroll, swim, sunbathe or just relax. Bring your swimsuit underneath your clothes, towel and take a dip in a crystal clear, freshwater pool under a cascading waterfall – a perfect "Heavenly Hana" experience. The return journey takes you to Hookipa and the chance to snap a breathtaking photo of Maui's world-class windsurfers.
Adult from: $279.00 USD
Child from: $259.00 USD
ארוחה