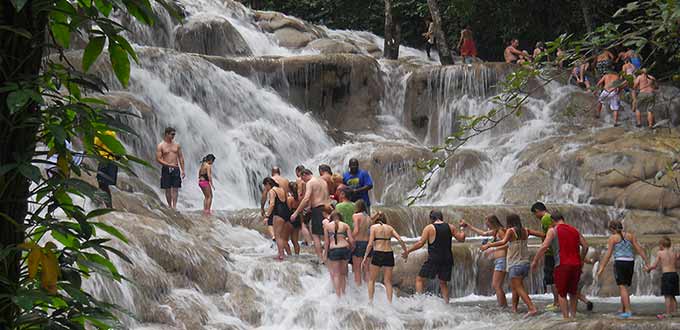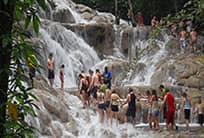 Bamboo Beach VIP & Dunn's River Falls
אוצ'ו ריוס, ג'מייקה
Duration 5 1/2 hrs
Spend the day climbing Dunn's River Falls then enjoy Jamaican hospitality at Bamboo Beach Club. Join hands for an exhilarating ascent up the falls' natural stone staircase and be prepared to get wet! Take a dip in some of the many plunge pools on your way up and brace yourself for the unforgettable views below. Don't wish to climb the waterfall? No problem. You can still watch the action from the observation deck adjacent to the falls.
Then relax on a 35- minute scenic ride to Bamboo Beach Club. Enjoy reggae beats and champagne welcome drinks as your tour guide takes you to the VIP section of the beach. Relax on padded lounge beds, sip specialty house cocktails and house sodas, and enjoy a four-course lunch, including jerk chicken and fish, along with other special dishes, such as jerk chicken spring rolls with mango chutney, fish tartare, and the chef's rum raisin bread pudding and vanilla ice cream. Enjoy your meal seaside, all delivered by hostesses to your chair so you can watch light entertainment by our staff and see our bartender's daily mixology demonstration as they create the special cocktail of the day. For an additional fee, indulge in a soothing massage.
If time permits and at the discretion of the tour guide, there will be a stop for souvenir shopping on the way back to the ship.
חשוב לדעת:
Note: Participants under 6 years of age may find it difficult to climb the waterfall. Dunn's River Falls is not recommended for pregnant women or anyone with heart, neck, back or knee problems. Participants must be at least 21 years old to drink alcohol. Towels are NOT provided. Snorkel rentals and beachside massages are available for an extra fee. Due to the popularity of Dunn's River Falls, expect to wait in long lines for 30-45 minutes at entrance and to encounter large crowds once in the falls. Your patience is appreciated. Guests should not carry or wear valuable items for this active excursion. Cash and/or valuables cannot be left on the bus while climbing the falls. Guests are required to wear water shoes while climbing the falls and hold hands with others in your group. Water shoes are available for purchase from your tour guide. You can order them on the bus and there will be a quick stop to pick them up from a Bamboo Beach Club staff member who will be waiting in a vehicle on the way to the Falls to expedite delivery. Tour order may vary.
Adult from: C173.75 CAD
Child from: C148.75 CAD
ארוחה