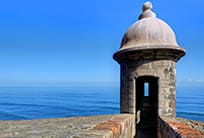 San Juan City Tour
San Juan, Puerto Rico
Duration 2 1/2 hrs
Enjoy a guided drive through one of the most beautiful cities in the Caribbean with its 17th century architecture and historic buildings. You'll have the opportunity to stroll around the grounds of the biggest fortification built by the Spaniards in the New World on your self guided visit to Fort San Cristobal. Come see its Main Plaza, "Garitas" watchtowers and authentic mortor balls. Re-board your bus and continue your guided tour to the New City, which will take you to the Condado District, filled with high-rise condos and luxury resorts.
A stop is made at one of the beautiful beaches and the Capitol Building for pictures. Return to Old San Juan where you'll visit the famous Plaza Colón. Here you may choose to stay to explore the local surroundings and enjoy some shopping or return to the ship. Take a step back in time and enjoy this captivating journey through history.
Need to Know:
Note: We recommend you wear comfortable walking shoes, bring a hat and sunscreen. Due to walking required at the fort, the activity level is substantial. The fort is not wheelchair accessible. There is a steep ramp to access the fort (about 65 paces one way). The first level features the barracks, gun rooms, and video presentation. The next level requires walking up another steep ramp (about 35 paces one way). Accessing the third level observation ports for the best views of the city requires going up another steep ramp (about 65 paces one way). Some of the stops are unguided allowing guests to browse on their own. Traffic in old and new San Juan can be congested. Alternate routes are implemented whenever possible. The stops are unguided allowing guests the leisure to browse on their own. Optional drop off in Old San Juan allows guests to browse, shop and return on their own to the ship.
Adult from: $65.00 USD
Child from: $45.00 USD
Family Recommended