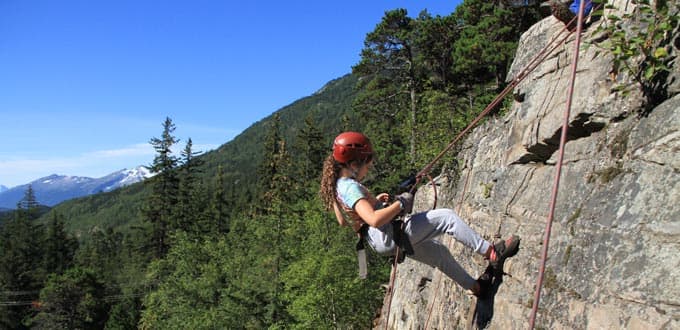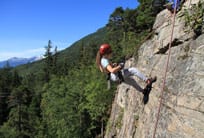 Klondike Rock Climbing & Rappelling
Skagway, Alaska
Durata 3 ore e 1/4
Join professional mountain guides for an exciting rock climbing and rappelling adventure on the stunning granite walls of Alaska! Your adventure begins with an interpretive drive through historic Skagway and up into the majestic White Pass Gold Route. A short hike through the temperate rainforest on an interpretive trail will bring you to the base of the spectacular rock face carved by retreating glaciers.
Here you'll gear up with rock climbing shoes, helmet and harness and then you're off to enjoy this incredible experience. Choose between over a dozen climbing routes, each ending in an amazing view of the Skagway River and the surrounding wilderness. You'll also have an opportunity to try an awesome 70 foot rappel! This adventure is perfect for those looking to try rock climbing for the first time, as well as for experienced climbers. Climbing is not mandatory, you can simply enjoy the tour, a cliffside snack, breathtaking views and watch the others scale the cliffs.
Cose da sapere:
Note: Participants must be at least 6 years of age, weigh a minimum of 50lbs but no more than 300lbs, and be able to hike for a few minutes over uneven terrain. Dress in warm clothing that allows for good flexibility. Climbing shoes, helmets, and harnesses are provided. Guests who go ashore do so with the understanding that they will be mixing with members of the general public.
Adult from: €137,42 EUR
Child from: €91,30 EUR
Età

Indicato per le famiglie

Peso

Merenda