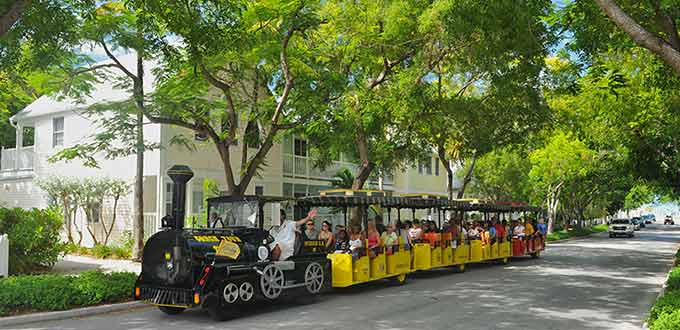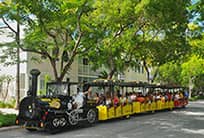 Key West by Land and Sea
Key West, Florida
Durata 3 ore e 1/2
This tour offers you the opportunity to explore Key West by land and by sea. Explore dramatic underwater vistas usually reserved for scuba divers. A wide variety of fish and other marine life await you, as you gaze into the underwater world of Key West. Enjoy a narrated eco-tour aboard The Pride of Key West, Fury's glass bottom boat, which offers a smooth ride on a modern catamaran with a seated sun deck and air-conditioned, enclosed viewing area as well as restrooms and a snack bar.
Then hop aboard The Conch Tour Train, the most popular tour in Key West. Since first opening in 1958, it has entertained over 15 million visitors. The expert "engineers" have been extensively trained to share the legends and lore of this charming tropical paradise with you. On your tour, you'll learn what made Key West the richest city in the United States and hear about the golden days of settlement when it was the farthest frontier. You'll hear about the Great Depression, the hurricane that destroyed Henry Flagler's railroad, the building of U.S. 1 and the arrival of the navy during World War II. Join this tour and relive 400 years of history and, like so many visitors before you, become enchanted by the stories, sights and sounds that are distinctly Key West.
Cose da sapere:
Note: Guests can expect a walking time of 8-10 minutes between the ship and the boat. Wheelchairs, walkers and strollers are permitted to get to and from the boat but are not permitted on board. They may be kept at the booth on the dock. During the train portion, guests may place collapsible devices behind the driver.
Adult from: €70,32 EUR
Child from: €29,38 EUR
Indicato per le famiglie