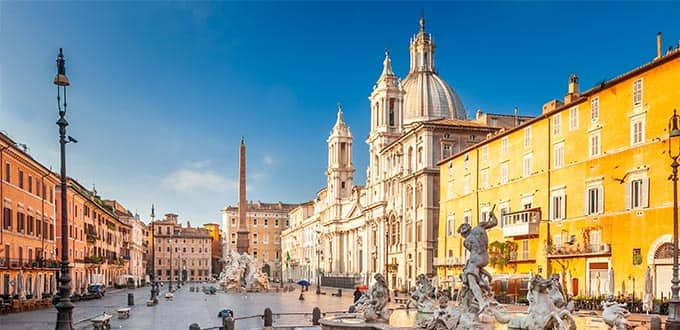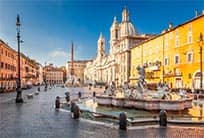 Go Local - Best Local Roman Food Scoop
Roma (Civitavecchia), Italia
Durata 8 ore
Walk through Lungotevere, one of the oldest sections of Rome, and sample a multitude of classic Italian treats. Your culinary immersion will begin at Campo de Fiori, where you will meander a bustling outdoor marketplace with stalls full of colorful produce, aromatic spices and classic Italian condiments. Crudites will be offered, allowing you to see just how tasty raw vegetables can be, especially when dipped in seasoned fresh-pressed olive oil. You will then walk to a bakery for a pizza tasting, on to a chocolate shop to sample confections and then to Sant' Eustachio, a coffee shop that makes its espresso with water from an ancient aqueduct. The proprietors will explain how they ensure the freshest ingredients and highest quality. A refreshing dessert follows at Giolitti, which may be Rome's oldest, if not finest, gelato shop. You will then enjoy free time around Navona Square, a wonderfully atmospheric area built over a stadium from the 1st century.
HIGHLIGHTS:
• Taste an array of classic Italian treats in one of the Rome's oldest sections.
• Expect to sample crudites, pizza, chocolate confections, coffee and gelato.
• Spend free time exploring atmospheric Navona Square.
Cose da sapere:
This tour includes about five hours of walking and standing with some inclines and cobblestone surfaces to negotiate, plus any additional walking at the guests' discretion during free time. The tour is not available to wheelchair guests and may not be suitable for those with mobility concerns who should evaluate their stamina and ability before joining the tour.
Adult from: €210,20 EUR
Child from: €210,20 EUR
Merenda