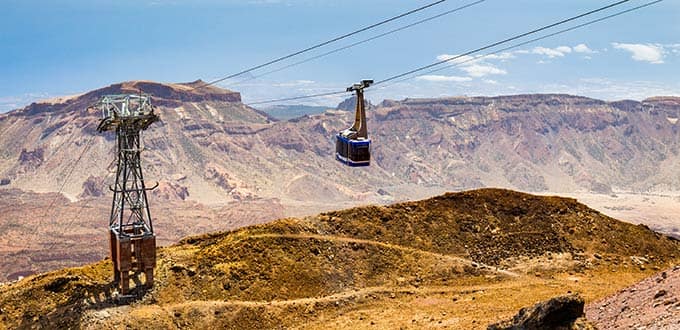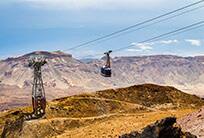 Mount Teide With Cable Car
Santa Cruz de Tenerife, Isole Canarie
Duration 5.5 hours
Enjoy the amazing scenery of Teide National Park and ride a cable car up Mount Teide, the world's third highest volcano and a sacred site for Tenerife's aboriginal people.
After departing from the pier, you will drive inland along an immensely picturesque, circuitous route and on into Teide National Park. The largest of the Canary Island national parks, Teide features a colossal stratovolcano that contains Mount Teide, the highest peak on Spanish soil. Its stunning geological formations are so important to understanding how volcanic islands are created that the park has been named a UNESCO World Heritage Site.
The now dormant volcano last erupted in 1798. It also erupted in 1492, supposedly as Christopher Columbus was sailing past on his voyage of discovery. Your approach to Mount Teide will be through a volcanic crater 30 miles in circumference.
The closer you come to Mount Teide, the more surreal and lunar the landscape will appear. The terrain is a jumble of bizarre natural rock formations, petrified lava rivers and endemic vegetation. One of the most spectacular plants is the red bugloss, a species with 6-foot, cone-shaped stems covered in pinkish-purple blossoms.
More phenomenal sights await you while ascending Mount Teide via cable car. From this unique perspective, you will enjoy sweeping views of the volcanic landscape and the ancient crater rimmed with red, brown and yellow walls. Upon reaching the summit, you may explore further during free time before retracing your route back to the pier in Tenerife.
Cose da sapere:
Note: Warm jacket recommended as the temperatures can be cooler at the top of the peak. From October to April the temperatures can reach below freezing. It is forbidden to remove any stones or plants from the National Park. This excursion will travel up some mountain roads to approximately 7,000 feet above sea level and eventually to 11,600 feet with the cable car. This tour is not recommended to guests who suffer from heart problems or have previously undergone heart surgery, pregnant women, respiratory problems including asthma or infants under the age of 1 year. Comfortable, flat, walking shoes are recommended. This tour is subject to weather conditions and may be cancelled at short notice. Due to its popularity, queuing may be experienced at the cable car.
Adult from: €87,32 EUR
Child from: €69,68 EUR
Età