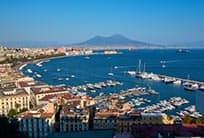 Go Local -Spacca Napoli & folded pizza
Napoli, Italia
Durata 3 ore e 1/2
Enjoy an enlightening tour of Naples by visiting Spaccanapoli, the street that divides the city, and by savoring folded pizza, a classic Neapolitan treat.
After departing from the pier, you will begin a panoramic drive around Naples, taking in the views from locales such as Posillipo Hill in one of the city's most affluent areas. Along the way, you will pass the imposing Castle Nuovo.
While parts of it date to the 13th century, it is still known as the new castle to distinguish it from the famed Egg Castle, which began as a 1st-century Roman villa. Castle Nuovo's five towers make it one of Naples' most recognizable landmarks. You will also see the Egg Castle, which holds a commanding position on the sea.
In time, you will reach Spaccanapoli, a long street whose name means "Naples splitter," a reference to it seeming to divide the city in two. Here, you will visit the Jesuit church Gesú Nuovo and the Church of Santa Chiara, which was founded in 1310 and features an austere Provencal-Gothic style. Much of Santa Chiara had to be rebuilt after World War II.
For an even more authentic glimpse into daily life, you will walk through the narrow streets of Old Town, which UNESCO has declared a Cultural Heritage site. As you will discover, there is no better setting to eat portafoglio or folded pizza, as the dish was invented in Naples. A cup of fresh espresso at a nearby café standing at the counter as Neapolitan does will top off the experience.
Cose da sapere:
Note: This tour includes approximately 2.5 hours of walking/standing; there will be some inclines and cobblestone surfaces to negotiate. The tour is not available to wheelchair guests and may not be suitable for those with mobility concerns who are cautioned to carefully evaluate their personal level of stamina and ability. Weather appropriate clothing; sun cap; sunglasses; and flat, comfortable walking shoes are recommended.
Adult from: €150,36 EUR
Child from: €140,90 EUR
Pasto