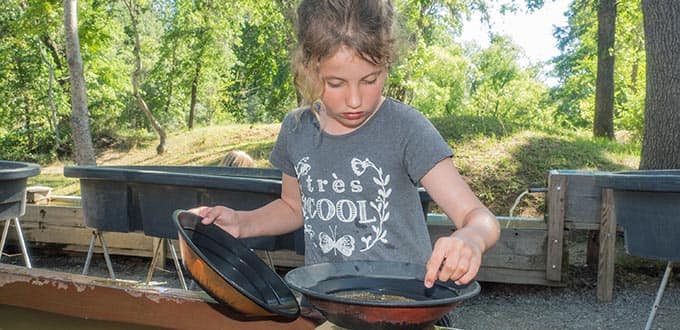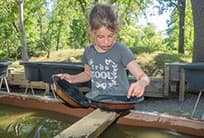 Skagway, Alaska
Durata 3 ore e 3/4
Experience the days of the Klondike Gold Rush at Alaska 360, an attraction that replicates life in the 1890s when gold-hungry prospectors flooded the area in hopes of striking it rich. An enlightening drive through Skagway will set the tone as nearly 100 buildings from that time period still remain in the historic district. An authentic dredge from the Gold Rush stands at Alaska 360 so you can clearly see how this massive, multi-story machine extracted gold
...
Experience the days of the Klondike Gold Rush at Alaska 360, an attraction that replicates life in the 1890s when gold-hungry prospectors flooded the area in hopes of striking it rich. An enlightening drive through Skagway will set the tone as nearly 100 buildings from that time period still remain in the historic district. An authentic dredge from the Gold Rush stands at Alaska 360 so you can clearly see how this massive, multi-story machine extracted gold
di più...
The adventure begins with a tour down the historic streets of Skagway out to Alaska 360 where you will enjoy an authentic smoked BBQ lunch including ribs, chicken and various side dishes. Dine inside or on the riverside patio or rooftop deck surrounded by mountain views. Learn the art of gold panning and practice your technique in warm-water troughs. Gold is guaranteed in every pan! Haul your treasure into the Gold Shack and have it weighed. Then, browse a collection of gold nugget jewelry and discover unique, souvenirs in the gift shop. Next board for a scenic motorcoach ride along the Klondike Highway, paralleling the route used by prospectors during the 1898 Klondike Gold Rush. You'll ascend to the 3,290-foot White Pass Summit, while you take in the magnificent scenery surrounding you. Finally, enjoy the panoramic views from the Scenic Overlook of the city of Skagway before returning to the ship.
HIGHLIGHTS
• Drive through Skagway's historic district, which thrived during the Klondike Gold Rush.
• See a dredge from the 1890s that mechanically extracted gold from the earth.
• Take a ride to White Pass Summit and stop for photos overlooking the city of Skagway.
• Pan for gold just like the Gold Rush prospectors and dine on a hearty BBQ lunch.
HELPFUL HINTS
• Dress in weather-appropriate clothing.
• Wear flat comfortable walking shoes.
meno
Adult from: €146,03 EUR
Child from: €90,93 EUR