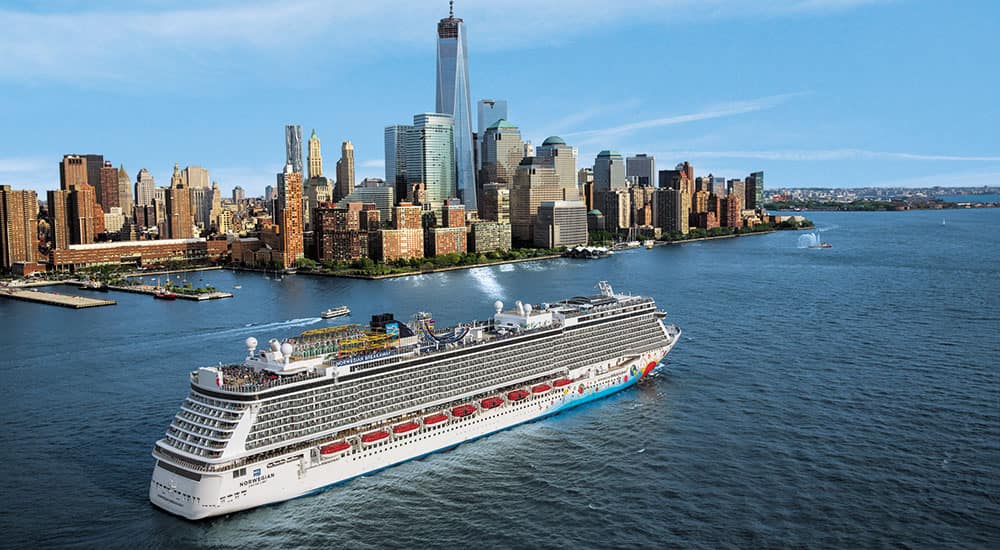 It's not too early to start thinking about a 2022 fall cruise on Norwegian Cruise Line. Perhaps you've been dreaming about a delicious lobster bake or seeing the gorgeous fall colors firsthand. With Norwegian, you can explore the best Northeast ports on a cruise vacation.
Canada and New England cruises are top-rated and tend to sell out far in advance. Now is the ideal time to book your 2022 cruise. With Norwegian's Peace of Mind program, added safety and health protocols, as recommended by Norwegian's Healthy Sail Panel, make booking your dream cruise to Canada and New England easier.
Pronto per iniziare a pianificare? Explore all 2022 Fall Cruises.
Departure Ports for 2022 Fall Cruises
For 2022 fall cruises, choose from New York, Boston, or Quebec, Canada, as your departure city. New York is one of the greatest cities in the world. Booking a cruise that departs from New York City gives you the option to spend a few extra days before or after your cruise vacation to explore "The Big Apple." Visit iconic New York landmarks like the Empire State Building, the Brooklyn Bridge, the Statue of Liberty, Times Square, Central Park, Grand Central Station, and more.
If you depart from Boston, Massachusetts, wander through Boston Common, the oldest park in the United States. You can also explore historical sites such as Paul Revere's House, the Bunker Hill Monument, Quincy Market, the Old North Church, the mansions of Beacon Hill, and more. With a cruise from Boston, you can opt for an itinerary that embarks and disembarks in Boston or ends in Quebec City.
When you book a cruise that starts in Quebec, you will disembark in Boston. Before embarking on your cruise, explore the old quarter of Quebec. It's a UNESCO World Heritage Site and the only walled city in North America.
Ports of Call on a Cruise to Canada and New England
Before deciding on a Norwegian 2022 fall cruise, consider the port cities you could be visiting. Discover some of the things you can see and do on your cruise.
Newport, Rhode Island
Newport, Rhode Island, is home to numerous famous mansions. Explore the Vanderbilts' villas or Doris Duke's mansion, which contains her original furnishings and art collection. If you can't decide on just one, book a Grand Mansions and Newport Highlights tour that takes you to all of Newport's scenic highlights and includes a visit to one of these grand mansions.
Portland, Maine
If you like lobster, don't miss out on trying fresh Maine lobster in Portland, Maine. Although it's not a big city, there's still plenty to see and do. Explore the charming waterfront; visit parks, museums, and art districts; and enjoy plenty of shopping. You can book an excursion to explore Portland on a paddle-wheeler before going on a hayride through the orchards.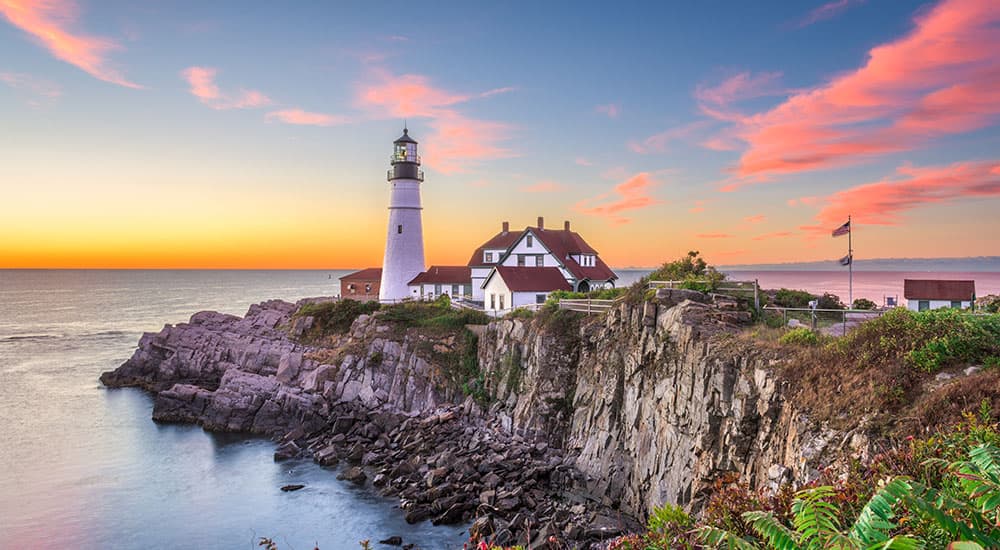 Bar Harbor, Maine
When you arrive in Bar Harbor, Maine, you'll understand why this destination is a popular port on a cruise to New England. Don't miss Acadia National Park, which is the second-most visited park in the United States.
Norwegian offers multiple excursions that visit Acadia National Park and some of Bar Harbor's other notable sites. Choose a combination tour that includes some education on the region's history and the lobster fishermen, or go for one that includes Acadia National Park and an authentic Downeast lobster bake.
Saint John, baia di Fundy, Nuovo Brunswick
One of the most impressive sights in Saint John, New Brunswick, Canada, is the Bay of Fundy. Here you'll find Reversing Falls Rapids, a natural phenomenon that causes the rapids to reverse during specific tidal periods. Walk along the new Skywalk, where you'll suspend yourself over 120 feet over the water. Plenty of other activities include whale-watching tours, visits to farms that produce maple syrup, and a Saint John River cruise.
Halifax, Nuova Scozia
Halifax, Nova Scotia, Canada, is known for its scenic and rugged coastlines. You'll find the second-largest natural harbor in Halifax. One of the not-to-miss sites is Peggy's Cove, home to one of the most visited lighthouses in Atlantic Canada. Visit Lunenburg, a historic colonial town and a UNESCO World Heritage Site. Or pay your respects at the Fairview Lawn Cemetery, the final resting place for 121 passengers on the Titanic. If you have trouble deciding what to do, consider a "best of" tour that takes you to multiple scenic spots in Halifax.
Charlottetown, Isola del Principe Edoardo
Fans of the novel "Anne of Green Gables" will undoubtedly want to book the Ultimate Anne of Green Gables Experience that takes you to the most iconic attractions and sites. If you prefer to explore Charlottetown, Prince Edward Island, Canada, consider a walking tour that visits the churches, one of which some people believe to be haunted by phantom bell ringers.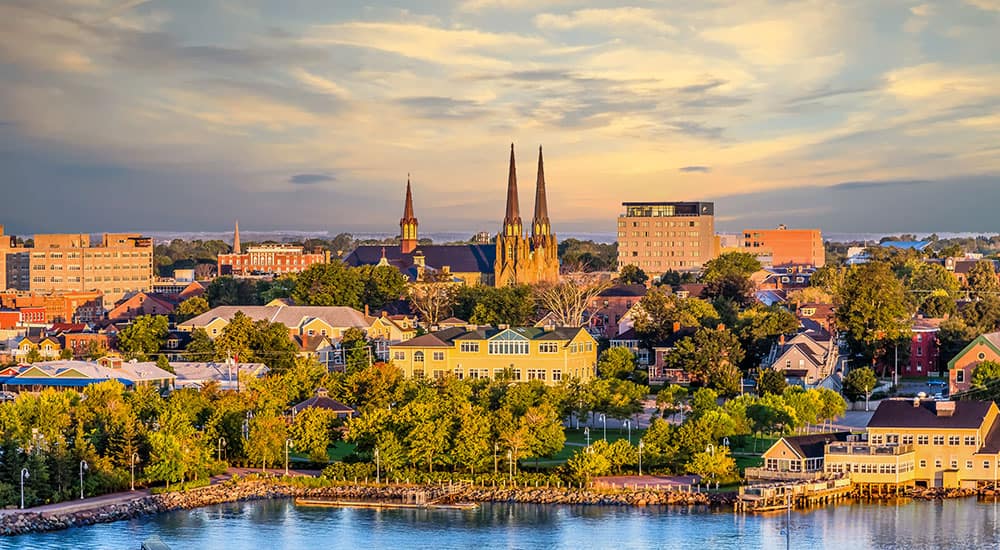 Sydney, Isola del Capo Bretone
Sydney, Cape Breton Island, is one of the most culturally diverse ports of call you can explore on a cruise to Canada. It was once home to the coal industry, which attracted immigrants from all around the world. If you are a foodie, Sydney is one of the best ports; you'll find more than 50 ethnicities represented here. If you have time, don't miss seeing the Fortress of Louisbourg, which is the largest fortified town outside of Europe.
Saguenay (La Baie), Quebec
When you choose a Canada cruise that includes Saguenay, Quebec, you're in for some epic views. Saguenay lies at the tip of a fjord that joins the Saguenay and Saint Lawrence rivers. Take a drive to explore the fjords and the Fjord Museum. If you want to do some souvenir shopping, you'll find multiple artisans along the way.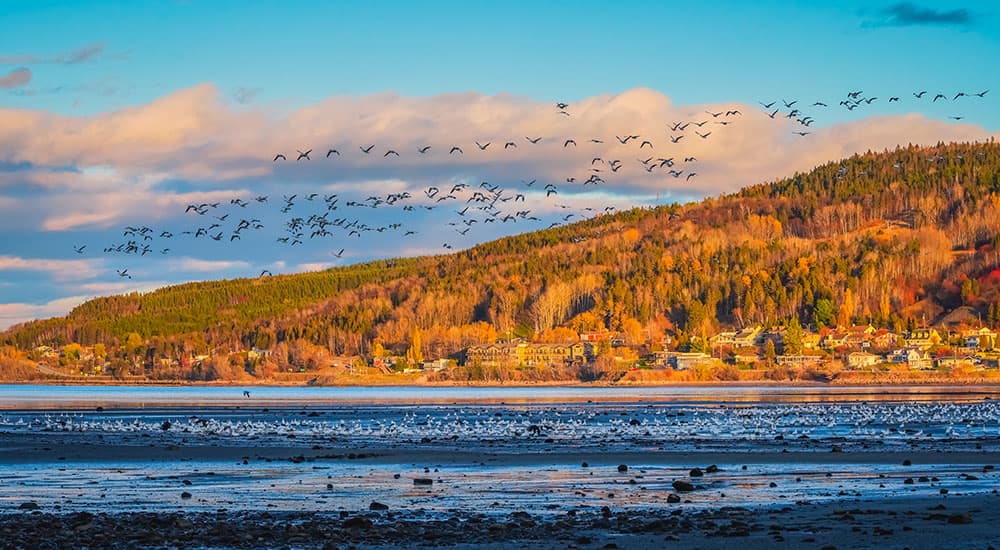 No matter which itinerary you choose, you'll have the opportunity to experience what makes New England and Canada so special this time of year. While you're deciding which 2022 fall cruise is right for you, don't forget to sign up for Norwegian's cruise deals. This way, you'll get the latest specials and offers delivered directly to your email inbox.