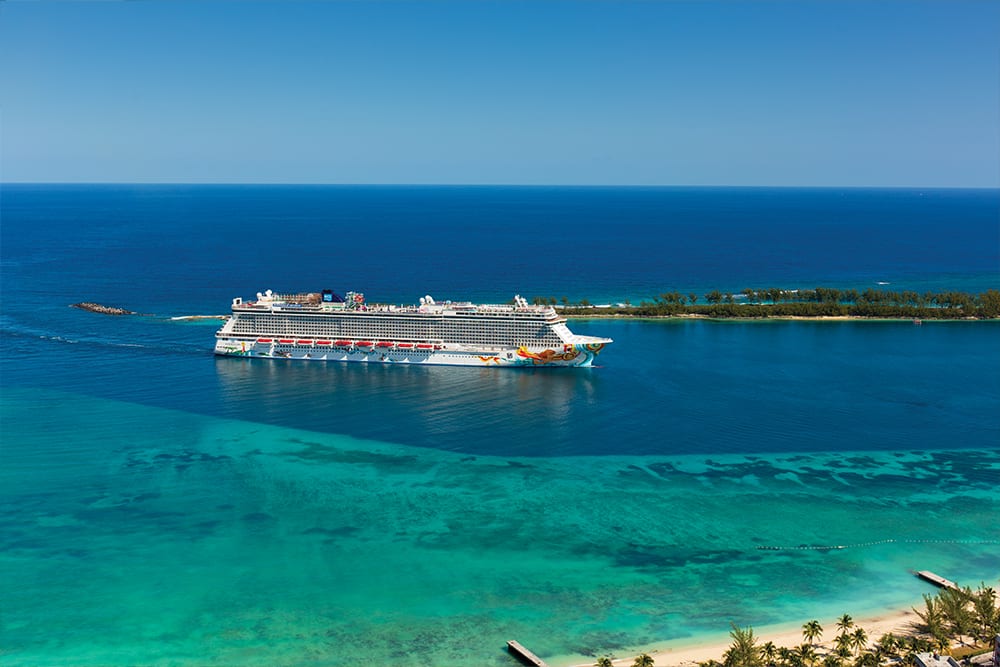 Are you considering a cruise vacation to the Bahamas in 2023? If so, Norwegian offers the best selection of Bahamas cruises. Whether you are searching for a quick weekend getaway or a week-long adventure, our 2023 Bahamas cruises are perfect.
Pronto per iniziare a pianificare? Explore all Bahamas cruises.
Spend the Day at Great Stirrup Cay
All Norwegian cruises to the Bahamas include a stop at our private island, Great Stirrup Cay. Whether you want to unwind on the white sand beach or be active all day, there's something for everyone at Great Stirrup Cay.
Cruise passengers looking for added privacy can book private cabanas or a villa. Silver Cove villas feature air conditioning, TVs, on-demand movies, a private restroom, and access to the upscale Silver Cove buffet. Guests also have access to the beach and unobstructed water views.
After exploring, Great Stirrup Cay features plenty of delicious options when you get hungry. Jumbey Beach Grill has a great menu of tropical bites, while Abaco Taco has a complimentary build-your-own taco bar. Tropic Like It's Hot is the new food truck that is perfect for a quick bite. If you're in the mood for an adult beverage to cool down, grab a mojito at the Bacardi Bar or a margarita at the Patron Bar. For a wide range of cocktails, head to Bertram's Bar.
Additional Ports of Call
In addition to Great Stirrup Cay, you could stop at one or more other Caribbean ports on a Norwegian 2023 Bahamas cruise. Other ports in the Bahamas include Nassau and Grand Bahama Island.
Book a cruise that stops in Nassau to learn more about legendary Caribbean pirates like Sir Henry Morgan, Black Beard, and Calico Jack. Check out the beautiful beaches and stunning dive sites around Nassau. Grand Bahama Island is the closest major island to the United States, and it's renowned for its underwater caves, duty-free shopping, market, and more.
If you choose a Bahamas cruise that is longer than three or four days, your cruise might include stops outside of The Caribbean. One possibility is Bermuda. Cruises that visit Bermuda head to the island's West End and dock at Royal Naval Dockyard.
Exploring the island's pink sand beaches is a popular option when in Bermuda, but there's so much more to see and do. Choose from multiple catamaran cruises, snorkel adventures, or an evening boat tour of the famous Bermuda Triangle.
Bahamas Shore Excursions
Shore excursions on 2023 Bahamas cruises involve plenty of underwater and on-land adventure, historical tours, and more. Whether you're traveling with kids or you're a kid at heart, there's something for everyone. Norwegian offers an excellent selection, whether you're only visiting Great Stirrup Cay or another island in the Bahamas.
If your cruise stops in Nassau, consider a day trip to Blue Lagoon Island, Pearl Island, or Balmoral Island Beach. These private islands have gorgeous beach areas and crystal clear waters. You can also cruise to Rose Island from Nassau to interact with the famous swimming pigs. If it's a dry land adventure you are after, book a Jeep tour that will take you all around downtown Nassau and interesting island sights.
Consider a snorkel sea safari or a Pirates Cove Beach getaway when you stop at Grand Bahama Island. Pirates Cove is an excellent option if you're traveling with family as it has zip lines and a water park. Parents can relax on a beach chair while the kids burn off some energy. Other fun options on Grand Bahama Island include a 12.5-mile biking tour or an off-road ATV and beach tour.
Great Stirrup Cay offers plenty of island adventure and shore excursions. Go for a tranquil ride in a kayak along the coastline, snorkel with turtles, ride a Wave Runner, or get your heart pumping with some zip line adventures. For a one-of-a-kind experience, book a tour to see the swimming pigs. Treasure Island is only a 10-minute boat ride away from Great Stirrup Cay.
Not-to-Miss Landmarks and Sights
Nassau is one of the most popular cruise ports in the Bahamas. Visit the Pirates of Nassau Museum, where you'll find a replica of the pirate ship Revenge. Art fans can check out the beautiful National Art Gallery of the Bahamas housed in the restored Neoclassical mansion, Villa Doyle. An important historical stop is the Queen's Staircase, which provided troops with protected access to Fort Fincastle. The Queen's Staircase is 66 steps of limestone cut in the 18th century.
On Grand Bahama Island, visit the city of Freeport for numerous restaurants and plenty of duty-free shops. The Straw Market is a great place to buy locally-made straw goods. Visit Lucayan National Park to explore over six miles of caverns, caves, and charted tunnels. It's believed to be one of the largest underwater cave systems in the world.
People often think Freeport is Grand Bahama Island's capital, but West End is actually the capital. West End has an interesting background, full of stories with arms smugglers, rumrunners, and wreckers. It also served as a transfer base for liquor headed to the U.S. during Prohibition.
Ships Sailing to the Bahamas in 2023
If there is a particular ship you're hoping to sail on, here are the Norwegian ships to choose from for a 2023 Bahamas cruise:
Are you still researching potential cruise vacations to the Bahamas for 2023? Don't forget to sign up for Norwegian's cruise deals. You'll get the latest specials and offers delivered right to your inbox, so you won't miss out on any deals when you're ready to book.