Some travelers love booking a cruise so they can experience a different port every day of their vacation. Other travelers like to book a cruise to enjoy time on the ship and experience a cruise line's amenities. There's nothing wrong with wanting to do both either! The solution is to book a 2023 transatlantic cruise with Norwegian.
Pronto per iniziare a pianificare? Explore all 2023 Transatlantic Cruises.
What is a Transatlantic Cruise?
Transatlantic cruises start in one continent, cross the Atlantic Ocean, and end in another continent. You might book a cruise from Miami and disembark somewhere in Europe. Or, you can choose a cruise from Barcelona and disembark in the United States.
Fans of transatlantic cruises enjoy the added time on the ship. With extra days at sea, you can:
Dine at more specialty restaurants.
Schedule some spa treatments.
Hang out by the pool and relax.
Enjoy many evening activities you might otherwise be too tired to attend after a full day of exploring.
While you have more days at sea, you'll stop in a few ports of call throughout your transatlantic cruise. It won't necessarily be back-to-back port days like you might have with a regional cruise. Transatlantic cruises often present a great savings opportunity because they are usually less expensive than other cruises of similar length.
It's important to point out, though, that these cruises only depart a couple of times a year when ships are transiting between cruise seasons. That means there's a higher risk of a transatlantic cruise selling out because you only have one or two sailings available.
2023 Cruise Ports
If you are interested in a transatlantic cruise, here's a sampling of some places you can visit.
Ponta Delgada, Azzorre
Ponta Delgada is the heart of tourism in the Azores, offering lots to see and do. Visit Sete Cidades to see a five-mile diameter caldera with two volcanic lakes inside. In Faja de Baixo, you can visit the pineapple greenhouses, home to the world's most famous pineapple.
Another option is to book an excursion to Ribeira Grande. Learn about important landmarks and then continue to a tea factory where you can do a tasting. You'll head to the Pico de Ferro viewpoint from the tea factory. This viewpoint offers spectacular views of the oldest and biggest volcanic crater. At the bottom of the crater is Furnas Lake and the spa of Furnas Valley. You will visit the impressive hot springs and see volcanic activity, such as fumaroles bubbling with boiling water and mud.
Santa Cruz de Tenerife, Isole Canarie
Santa Cruz de Tenerife is located on Tenerife, the largest island in the Canary Islands chain. Over half of Santa Cruz is a natural shoreline. Beachgoers love the expansive yellow sands at Las Teresitas. There's also a black sand beach at Las Gaviotas, a clothing-optional beach. Favorable weather conditions make Santa Cruz de Tenerife an ideal location to see pilot whales and dolphins all year.
Another fun option in Santa Cruz de Tenerife is the UNESCO World Heritage Site of San Cristobal de la Laguna. It is the first non-fortified Spanish colonial town. Be sure to taste some wine here as the town is known for its delicious wines.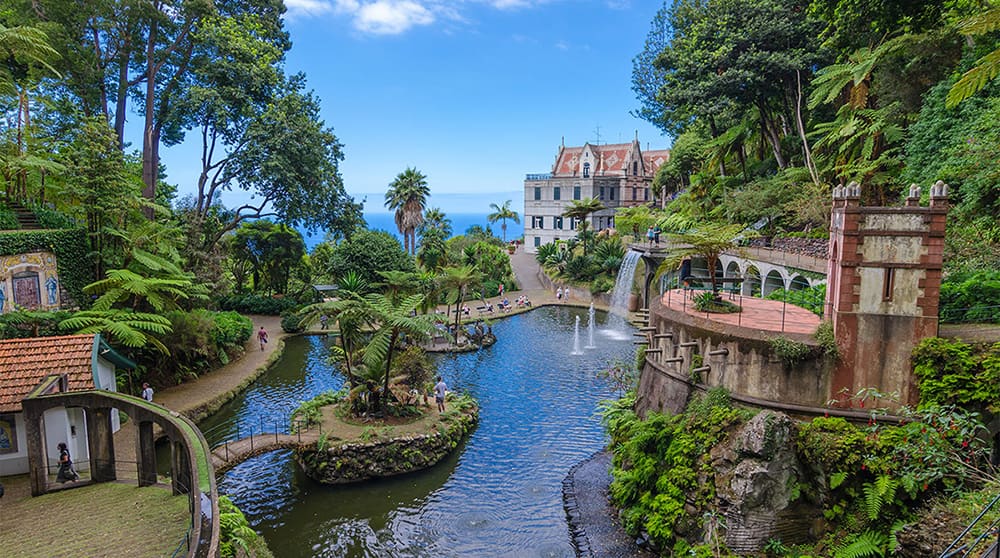 Funchal, Madeira
Madeira is less than 400 miles from Morocco. The island has numerous mountains, some over 6,100 feet high. There's plenty of outdoor adventure and delicious eats waiting for you in Funchal, Madeira. Wander around town, visit lava-formed landscapes, or head out to a winery to sample local wines. Not-to-miss sites include the São Tiago Fortress in the harbor that dates back to the 1600s and the Funchal Cathedral with its mix of Romanesque and Gothic styles.
Salvador De Bahia, Brasile
Salvador De Bahia is one of the oldest colonial cities in the Americas, founded in 1549 by the Portuguese. The Portuguese influence is still evident through its architecture and historical sites. You'll also experience the Afro-Brazilian heritage in Salvador De Bahia, visible in the cuisine, local music, and cultural traditions. Salvador De Bahia is also stunningly beautiful, with over 50 miles of beach.
Dublino, Irlanda
Visit Dublin, Ireland's vibrant and bustling capital, on a transatlantic cruise. Dublin is an exciting city, full of interesting sites and attractions. Stop by the Guinness Brewery for a pint of Guinness beer or take a tour of the Jameson Whiskey and learn why Jameson dominates the Irish whiskey market. Take a walking tour of Dublin's highlights or book the Hop-On-Hop-Off Bus tour that allows you to get off the bus and whatever attractions you want to explore more.
Isafjord, Islanda
Isafjordur is one of the most remote towns in Iceland, located in the Westfjords region. The Westfjords peninsula is renowned for its dramatic landscapes, including sheer cliffs that rise straight out of the sea. Nature lovers flock to Isafjordur for its abundant outdoor attractions and activities. The Westfjords is home to abundant wildlife and bird species in Iceland, including foxes, puffins, terns, guillemots, and more.
Take a walking tour of the village or go on a tour to learn about life in the fjords. Book an excursion to visit the nearby island of Virgur, home to huge colonies of seabirds. You can also visit the abandoned village of Hesteyri, accessible only by boat. With no roads or electricity, villagers eventually moved away by 1952.
Are you deciding which transatlantic cruise is best for you? Don't forget to sign up for Norwegian's cruise deals to get the latest specials and offers delivered to your inbox.