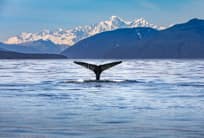 Whale Watching & Wildlife Quest
ジュノー、アラスカ
所要時間 4時間
This sightseeing cruise features guaranteed whale watching! Following a short motorcoach ride to scenic Auke Bay, you'll board a water jet powered catamaran specially designed for wildlife viewing. Relax in the warm, comfortable, spacious main cabin, surrounded by large windows as your experienced Captain guides you through the island studded waters of Stephens Passage. Against a majestic backdrop of snow-capped peaks and glaciers, the onboard naturalist will explain the behavior and habitat of wildlife you may encounter, including humpback and killer whales, Steller sea lions, Dall's porpoise, harbor seals, bald eagles, bears and deer.
The operators of this tour guarantee that you'll see a whale. If not, you'll receive a $100 cash refund as you disembark the vessel. Don't anticipate a refund; in the past 10+ years, whales have been sighted on every tour! To fully enjoy the sights and sounds of a close encounter with wildlife, be sure to bring a warm, rainproof jacket to wear on the topside observation deck and don't forget your camera! Day use binoculars and a souvenir wildlife guide and map are provided, along with complimentary snacks and beverages.
知っておくべき情報:
Note: Guests who go ashore do so with the understanding that they will be mixing with members of the general public.
大人:$199.00米ドルより
子供:$139.00米ドルより