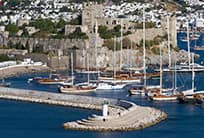 Castle of St. Peter
トルコ、ボドルム
所要時間 2 1/2時間
Explore the Medieval beauty of the Bodrum Peninsula during this memorable visit to the Castle of St. Peter.
Few sights match those encountered along the Bodrum Peninsula. With rolling hills on both sides, and colorful yachts and sailing vessels docked right outside its walls, the seaside Castle of St. Peter is truly a sight to behold. The towers and battlements of the castle tower over the town, and serve as a reminder of its storied past.
Depart the pier for the walk to the Castle of St. Peter, and a guided tour of the Museum of Underwater Archaeology housed inside. The Castle was built in the 1400s by the Knights of St. John, a group of expatriates that began in the 11th century with a church and hospital in Jerusalem. Although the Knights observed the Catholic religion, they denied care to no one. When they decided to build the Castle of St. Peter, they instructed their builders to remove marble, stone and other usable material from the tomb of King Mausolos, or Halicarnassus Mausoleum, for use in the castle's construction.
Upon arrival at the castle, you will pass through its seven gates embellished with coats of arms and inscriptions. During your walking tour, you will visit the Museum of Underwater Archaeology. The museum attracts hundreds of thousands of annual visitors, has earned an award for Museum of the Year and appeared in National Geographic magazine. You will marvel at the exhibits of submarine archaeology, including amphora and large, copper ingots recovered from a shipwreck just offshore.
Following your castle and museum tour, you will walk back to the pier.
知っておくべき情報:
Note: This tour includes approximately 2 hours of moderate to strenuous walking and there are stairs to negotiate at the castle. The tour is not available to wheelchair guests or those with walking difficulties. Weather appropriate clothing; sun cap; sunglasses; sunscreen; a bottle of water from the ship; and flat, comfortable walking shoes are recommended.
大人:$69.00米ドルより
子供:$69.00米ドルより