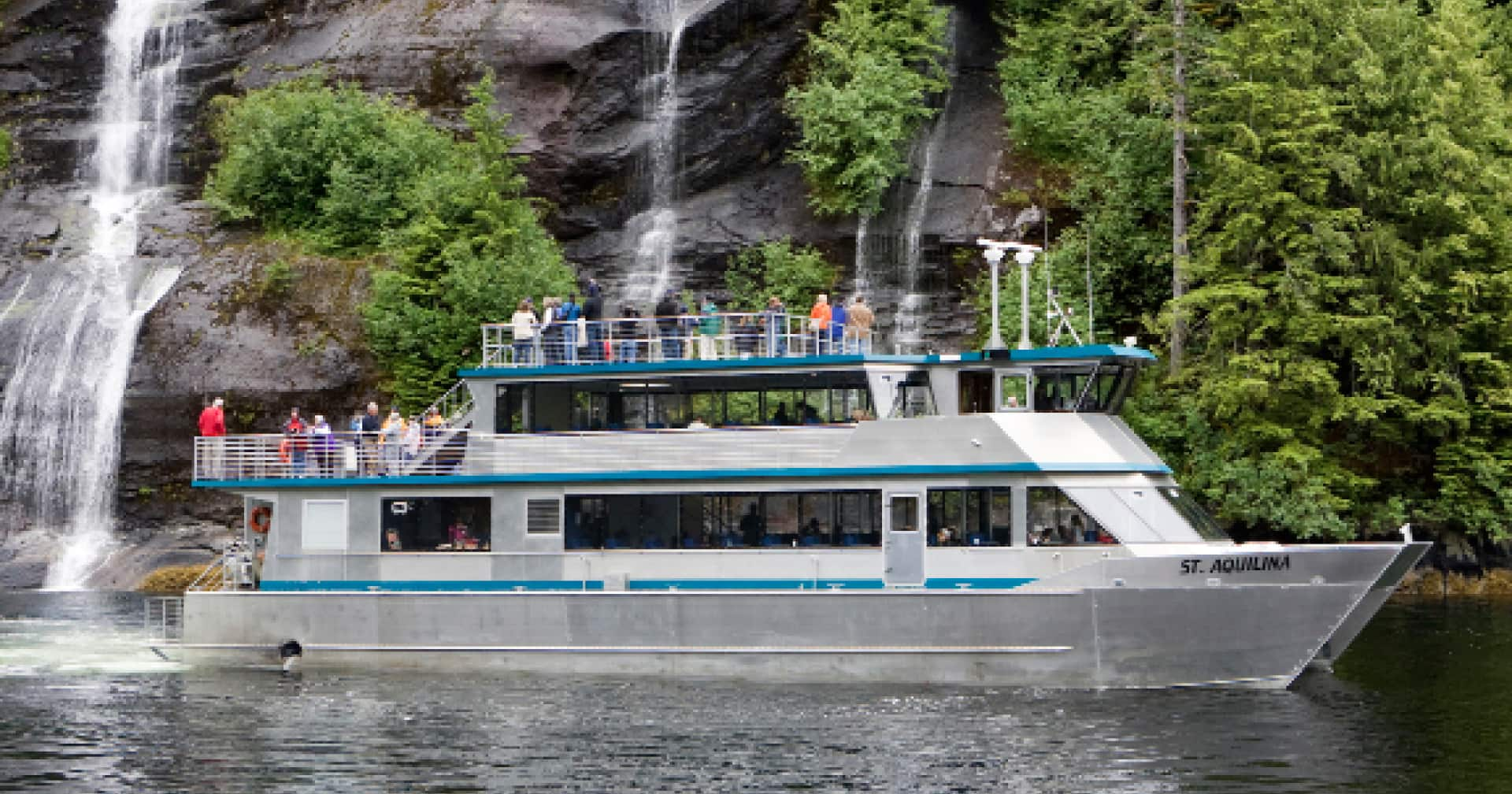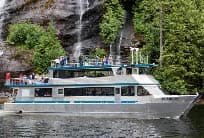 Misty Fjords & Wilderness Explorer
Ketchikan (Ward Cove), Alaska
Duration 6 hrs
OVERVIEW
Cruise on the Wilderness Explorer expedition vessel through Misty Fjords, a waterway that ancient glaciers carved out of the rugged landscape, leaving behind a natural wonderland of sheer vertical cliffs, roaring waterfalls and endless beauty. To reach the fjords, you will pass through Revillagigedo Channel and proceed into the Behm Canal, a waterway where orcas, seals and porpoises are often spotted. Occasional stops will be made along the way to view an active bald eagle's nest, a pictograph that the Tlingits etched into a stone cliff and New Eddystone Rock, an immense volcanic spire that rises above the sea. While cruising through Rudyerd Bay, the naturalist will describe the natural history and point out seabirds that may be nesting in the soaring granite cliffs. You will also have the opportunity to delve into the Tlingit culture by listening to a tribal storyteller-artist or by watching a video presentation.
HIGHLIGHTS
• Cruise through beautiful glacially formed Misty Fjords.
• Look for whales, orcas, seals and other marine life.
• Pause to see a bald eagle nest, a Tlingit pictograph and a volcanic spire.
• Listen while a Tlingit storyteller explains the tribal culture.
HELPFUL HINTS
• Dress in weather-appropriate clothing.
• Wear flat comfortable walking shoes.
Need to Know:
Note: The ride from the pier to the Misty Fjords is approximately 1.5 hours in each direction. On the cruise back to Ward Cove, you will be served a selection of snacks and beverages. Guests may be required to walk up to 100 yards to the boat. Although wildlife sightings are common, they are not guaranteed. This tour operates in all weather conditions. This tour may not always be exclusive to guests of the cruise line. Guests will be bussed to downtown to load the expedition vessel and will be bussed back to Ward Cove to return to the cruise ship. Guests are encouraged to wear warm comfortable layers, and bring a waterproof jacket and binoculars. Lift buses are not able to accommodate Motorized Scooters, however manual wheelchairs can be used.
Adult from: $249.00 USD
Child from: $179.00 USD
Accessibility

Family Recommended

Snack