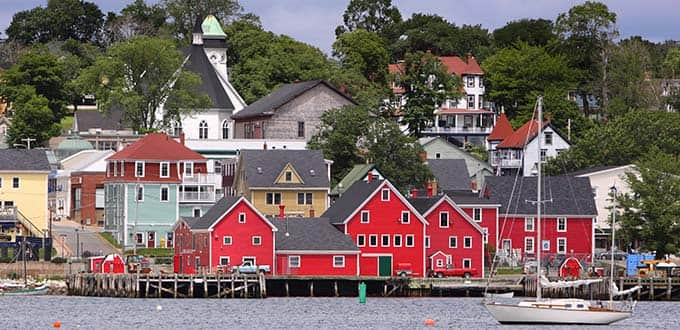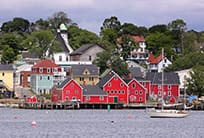 Iconic Towns Of Nova Scotia
Halifax, Nova Scotia
Duration 7 hours
Board your motor coach and brace yourself as you set out on a South Shore Adventure of Nova Scotia! Visit Peggy's Cove, Lunenburg and Mahone Bay and discover their colourful houses, museums, art galleries, souvenir shops, cafe's and restaurants. This tour will demonstrate the beautiful diversity of the South Shore and allows you free time to plot your journey at each location, whether you want to savor the local foods and atmosphere in one of the cafe's/restaurants, buy souvenirs, or just mosey along viewing the impressive sites and taking pictures, the choice is yours!
At Peggy's Cove, discover why this picturesque seaside village with its stately lighthouse has been an inspiration to artists and writers for generations. It is here that the power and majesty of the Atlantic Ocean truly comes to life along the granite shores of the Cove - worn and shaped through the crashing surf.
Continuing on, you will arrive at another extraordinarily scenic area, Old Town Lunenburg. Established in 1753, it is North America's best surviving example of a planned British colonial settlement. The original layout and appearance has been retained so faithfully that UNESCO designated Lunenburg a World Heritage site. During free time, you can explore the brightly colored Old Town, which is easy to navigate because the streets follow a rectangular grid pattern designed in Britain. You can expect to see 18th-century wooden buildings and perhaps a replica of the Bluenose, Canada's legendary racing ship that was launched here in 1921. Finally, we will visit Mahone Bay, considered to be one of the most attractive towns in Canada. This small and friendly community is renowned for the view across the Bay of three prominent churches. Take time to explore the many varied and local offerings along lovely Main Street before relaxing on the return drive to the Port of Halifax.
Need to Know:
Note: This tour includes approximately 3 hours of walking and mainly at the guest's discretion. It is available to guests who utilize a collapsible wheelchair, are able to both make their way on and off the coach and have a companion to assist them. Those guests with mobility concerns are cautioned to evaluate their personal level of ability and stamina. All guests should exercise extreme caution while exploring Peggy's Cove. Stay OFF black rocks and be weary of wind & waves. Weather appropriate clothing including a jacket or sweater; sun glasses; and flat, comfortable walking shoes are recommended. Order of sites visited may vary.
Adult from: $139.00 USD
Child from: $79.00 USD
Family Recommended