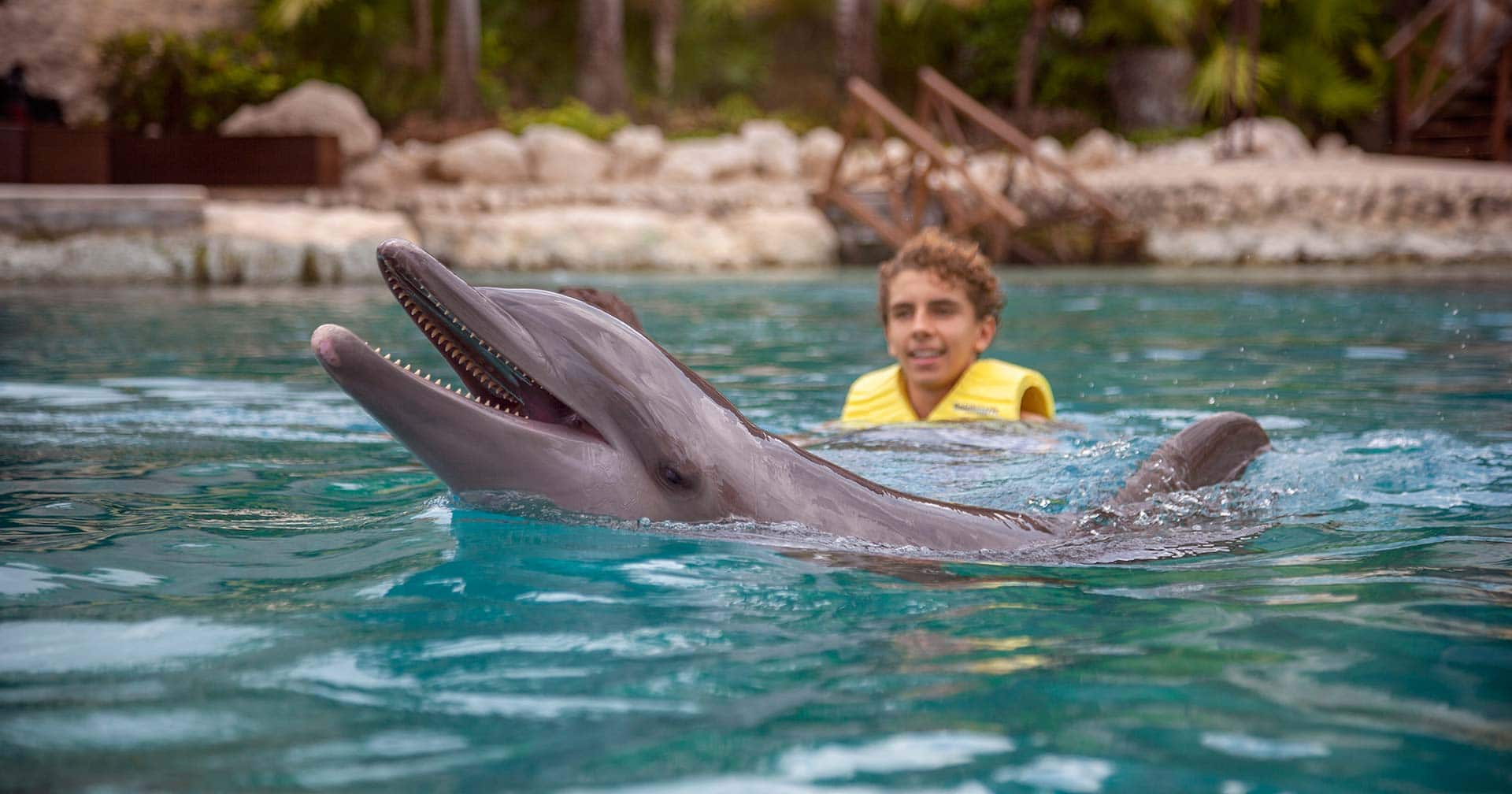 Exclusive VIP Dolphin Swim
Cozumel, Mexico
Duration 3 1/2 hrs
Discover the magic of a dolphin connection. Learn how to communicate one-on-one with these awe-inspiring marine animals in a way that's sure to open your mind and warm your heart. Starting with a 40-minute swim, an exciting belly ride! Snorkel with tropical fish in a natural aquarium, and venture into the ocean for water activities. Enjoy the Premier lounge area overlooking the dolphins and the turquoise water of the Caribbean Ocean, while being pampered by your personal host. Enjoy a delectable 4-course lunch with all-inclusive beverages.
Your exclusive program places you in direct contact with the dolphins, giving you the once-in-a-lifetime opportunity to hear them communicate via sonar and feel their heartbeat at your fingertips.
Your experience begins with a refreshing natural drink as your Seaguard guide welcomes you. Each of our Seaguards is a highly trained expert on issues relating to dolphins and the oceans. After a brief orientation where you will receive your towel & locker key for its use during your stay at the facility, follow your Seaguard to embark on an ocean voyage and explore the depths of the sea alongside a dolphin friend.
Your Seaguards will then guide you to the dolphin habitat as your 40-minute swim begins in the deeper waters of our lagoons. The trainer will give you insight into how dolphins communicate and behave.
Next you will communicate with the dolphins in their own personalized way. Put on your dark-lens goggles and float face-up in the water. With your ears submerged, you'll be able to hear first-hand how the dolphins talk underwater via sonar… an experience you won't find above the surface! Afterwards, you can deepen your bond by placing your hand over the dolphin's heart to feel its heartbeat, giving you an even more profound understanding of how humans and animals are so closely connected.
Then hold on tight for the famous belly ride! You and the dolphin will get to complete your connection near the end of the experience, when you'll get face-to-face for an unforgettable dolphin kiss, as the dolphin says goodbye. Finally, the dolphin will dive down to a treasure chest at the bottom of the lagoon and bring you a special gift: a dolphin fin charm made out of recycled materials.
After lunch, where you'll have the chance to see all of your candid photos on a tablet, spend the rest of your free time indulging in the rest of the amenities. Access to the Exclusive Lounge with a private infinity pool plus included four course lunch and drinks, a swim in the snorkeling aquarium with tropical fish and other surprising sea creatures, and activities like paddle boarding and kayaking on the Caribbean Sea.
Need to Know:
Note: Participants must be at least 12 years of age. This tour is not recommended for guests with neck or back problems and pregnant women. Guests who go ashore do so with the understanding that they will be mixing with members of the general public. Minimum age to consume alcohol is 21 years old. Snorkeling, kayaking and paddle boarding activities are offered at the site on a first come, first serve basis and are subject to cancellation due to weather conditions. The optional activities have no monetary value in the event of weather cancellation.
Adult from: $189.00 USD
Child from: $189.00 USD