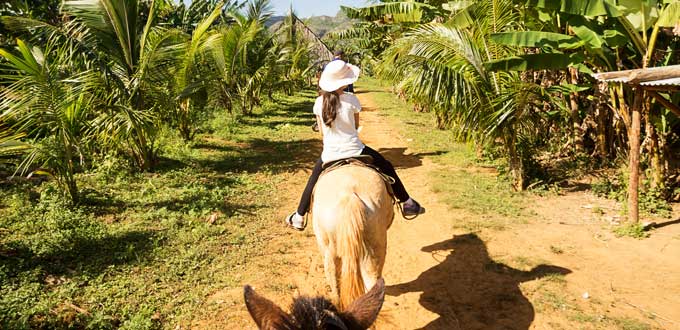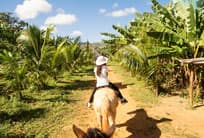 Hiking, Horseback, and Kayak Adventure
Puerto Plata, Dominican Republic
Duration 6 1/4 hrs
OVERVIEW
Explore the wilderness that surrounds the remote mountain community of Jamao al Norte, beginning with a leisurely horseback ride into the lush landscape. You will follow a trail that winds through the jungle-like forest, where the only sounds will be the rhythmic clip clop of the horse's hooves and birds chirping in the dense foliage. The setting will be absolutely enchanting as it is completely natural. In time, you will arrive at the Jamao River, a crystal-clear waterway with forested and steep rocky banks that will be beautifully reflected on the water's surface. You will then ease into a two-person kayak and paddle along at your leisure, pausing every so often to take in the stunning scenery and scan the shoreline for wildlife. The river is typically so clear that you will be able to see fish swimming below. Following a hearty lunch at a nearby restaurant, you can enjoy free time for hiking.
HIGHLIGHTS
• Hike, ride a horse and kayak through the remote mountain wilderness that lies inland.
• Enjoy the beautiful tropical setting, a sparsely populated land that is absolutely pristine.
• Relax over a hearty lunch and recount your experience with the other guests.
HELPFUL HINTS • Dress in weather-appropriate clothing.
• Wear a swimsuit and bring a towel.
• Wear flat comfortable walking shoes.
Need to Know:
Note: Guests with back or leg problems and pregnant women cannot participate. Participants must be at least 6 years of age with a maximum weight of 250 lbs.
Adult from: $149.00 USD
Child from: $79.00 USD
Age

Weight