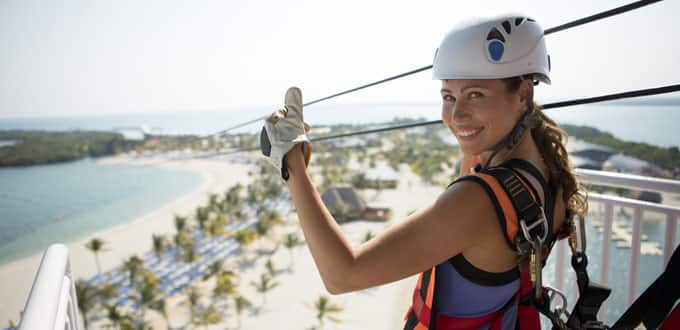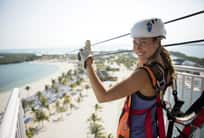 Island Zipline Adventure
Great Stirrup Cay, Bahamas
Duration 1 hr
The Island Zipline Adventure course is a combination of the Osprey Zipline plus the Seahawk Zip to give you six high-flying zips plus a series of V-net bridges, chimney climbs and cargo nets, designed to challenge but not overwhelm your physical and mental strength. Tour starts with an elevator ride to the top of the Flighthouse.
With platforms at 120-feet above ground and top speed of over 50 mph, your senses will be dazed with adrenaline as you zip out over the beach and reef of Great Stirrup Cay. The V nets allow you to transverse from one zipline to another while providing you with bird's-eye view of your fellow guests, the many islands to the South or the turquoise waters and their inhabitants below.
For those feeling extra strong and confident we've added an almost vertical cargo net climb or by-pass the cargo net and continue the course via the chimney climb and V net bridges.
Either way this zipline course is great for individuals, families or just a bunch of friends who want to get together to experience some adventurous fun. Tour space is limited, secure your adventure today.
Need to Know:
Shorts or pants and shirts required. No bathing suits. Closed heel shoes required so shoes do not fall off on traverses. Shoe rentals available. This tour is not recommended for pregnant women, guests with neck or back injuries, vertigo or heart conditions. Guest should consider their physical fitness level & medical history when determining whether this tour is appropriate. Guest under the age of 18 must be accompanied by a parent/guardian who will participate in the tour. Participants must be a minimum of 8 years old and weigh no more than 250 lbs. Minimum height is 4 feet tall. Guests who go ashore do so with the understanding that they will be mixing with members of the general public.
All gear for the tour is supplied by the tour operator. There is an elevator to get guests up to the start of the tour.
Adult from: $119.00 USD
Child from: $85.00 USD
Age

Weight