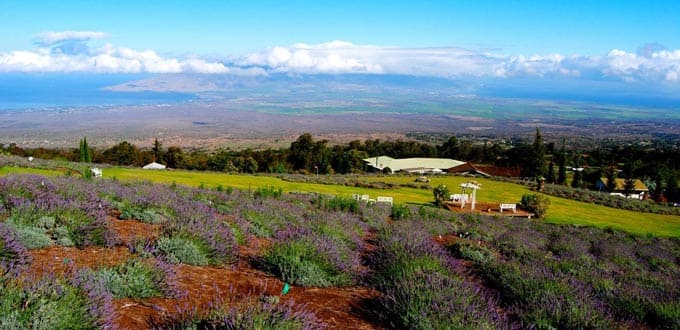 Ocean Vodka, Botanical Garden & Lavender Farm
Kahului, Maui
Duration 6 hrs
Discover how Hawaii's best-selling vodka is made, enjoy a serene stroll through a botanical garden and see how locally grown lavender is infused into all sorts of products.
After departing from the pier, you will enjoy a leisurely, scenic drive to the Ocean Vodka Organic Farm Distillery. While touring the family-owned estate, you will discover the sustainable farming practices that produce Hawaii's best-selling vodka.
The distillery is entirely solar-powered and the ingredients such as sugar cane are organically grown in volcanic soil without herbicides or pesticides. The vodka is the only one in the world made with deep ocean mineral water, which imparts a unique flavor to it. A tasting of gluten-free Ocean Vodka follows the tour, after which you will receive a shot glass souvenir.
You will next visit Kula Botanical Garden, which blankets the slopes of the massive shield volcano Haleakala. As you meander the garden paths, you may pass koi ponds, walk through a covered bridge and enjoy the soothing sounds of waterfalls. Hawaiian geese known as nenes freely roam the property. Few places are quite so peaceful and naturally beautiful.
Continuing on, you will stop at Ali'i Kula, a farm that grows lavender for a variety of products. While exploring the farm on your own, you can take in the sweeping views of Maui's central valley and see how the lavender is grown and used in products such as soaps, essential oils, jelly and candles.
Need to Know:
Note: This tour includes approximately 4 hours of walking. It is not recommended for guests who utilize a wheelchair. Those guests with mobility concerns are cautioned to evaluate their personal level of ability and stamina. Casual, weather-appropriate clothing and comfortable, flat walking shoes are suggested.
Adult from: $298.57 NZD
Child from: $298.57 NZD
Meal