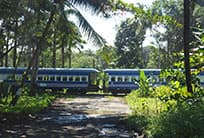 Pacific Train, Bus & Boat Adventure
Puntarenas (Puerto Caldera), Costa Rica
Duration 4 3/4 hrs
This combination excursion gives you the opportunity to ride a historical train that has been in service for more than 50 years and participate on a scenic ride through rural countryside and tropical fields. Afterwards, board your motorcoach en route to the Tarcoles River where you'll go on a boat and explore the spectacular natural scenery this river has to offer.
The river and mangroves attract many types of bird wildlife such as toucans, spoonbills, herons, egrets, jacanas, pelicans, scarlet macaws, iguanas and crocodiles. Upon your return enjoy some live marimba melodies and enjoy a delicious buffet of seasonal fruits and tropical refreshments. Enough time will be provided to select crafts made by local artisans before returning to your ship.
Need to Know:
Note: This excursion might operate in reverse order. Please wear casual clothing, comfortable walking shoes, a hat, sunscreen, and bring a camera and raingear. Wildlife sightings while common cannot be guaranteed. Advance notice is needed for guests in wheelchairs; motorized scooters cannot be handled, only foldable wheelchairs. The type of walking required is along even roads and compact gravel trails. A free bird guide will be provided at the beginning of the river cruise, which will allow participants to identify any feathered creatures seen along the way.
Adult from: $150.00 NZD
Child from: $104.55 NZD
Accessibility