Home
>
Press Releases
>
Norwegian Cruise Line%C2%A0names%C2%A0top Air Personality Elvis Duran As%C2%A0godfather Its Newest S
Norwegian Cruise Line Press Releases
Norwegian Cruise Line Names Top On-Air Personality, Elvis Duran, as Godfather for Its Newest Ship, Norwegian Bliss
Celebrated Nationally-Syndicated Radio Host of "Elvis Duran and the Morning Show" to Christen Norwegian's Newest Ship in May 2018
Miami, FL, US - Nov 29, 2017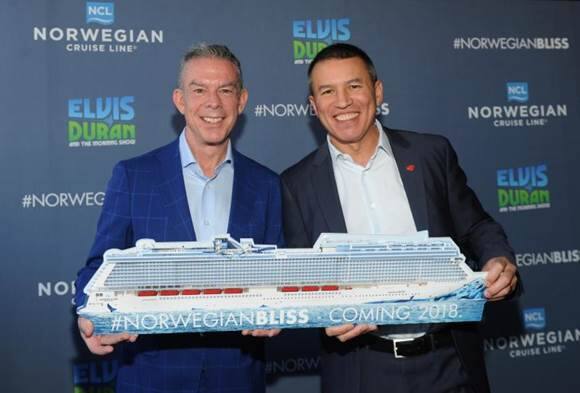 Norwegian Cruise Line announced today that Elvis Duran, nationally syndicated radio and digital personality and on-air host of iHeartMedia's top rated, "Elvis Duran and the Morning Show" will serve as Godfather of its newest ship, Norwegian Bliss. As Godfather, Elvis will have an honorary role in the official ship christening ceremony on May 30, 2018 at Pier 66 in Seattle. Custom built for the ultimate cruising experience, Norwegian Bliss will boast an array of exhilarating activities, delectable dining options and show stopping performances. The line's sixteenth ship will sail weekly seven-day Alaska cruises during her inaugural summer season and, beginning in November 2018, Norwegian Bliss will trade in Alaska's breathtaking scenery for stunning Caribbean sunsets as she sails seven-day Eastern Caribbean cruises each Saturday from Port Miami.
In the maritime world, it is a longstanding tradition to name a Godparent of a new vessel and the honor is given to an individual who will officially christen a new ship, and remain in their role for the life of the ship. Norwegian Cruise Line bestowed the Godfather role upon Elvis Duran as he mirrors the fun, exciting and original personality that Norwegian Bliss so wholly embodies. While Norwegian Bliss is docked in Seattle on May 30, 2018, Elvis will join Norwegian Cruise Line Holdings Ltd.'s President and CEO Frank Del Rio and Norwegian Cruise Line President and CEO Andy Stuart in the tradition of breaking a bottle of champagne against the ship's hull and officially christening the vessel during an exciting ceremony. Elvis joins the family of high profile Godmothers and Godfathers for the brand including Pitbull, Kim Cattrall, Reba McEntire, Rosie O'Donnell, Chinese pop star Wang Leehom and the Radio City Rockettes, as he steps into this special new role.
"Elvis Duran epitomizes the high-energy, and liveliness that the ship represents and we're very excited to have him join the family as Godfather to Norwegian Bliss," said Andy Stuart, Norwegian Cruise Line's president and chief executive officer. "Norwegian Cruise Line's mission is first and foremost to provide guests with a one-of-a-kind unforgettable vacation and continue to develop and offer guests the latest innovative experiences. As one of the most beloved radio hosts in history, Elvis' commitment to entertainment and bringing laughter and joy to his listeners each day is exactly why we believe he is the perfect fit to represent Norwegian Bliss."
Elvis Duran has become a household name in the industry since he began hosting the daily morning radio show on New York's Z100 in 1996. Over the years, Duran has continuously shown his devotion to his listeners by seeking new ideas, fun games and exciting interviews with celebrities. His radio career has spanned 30 years and today, the award-winning "Elvis Duran and the Morning Show" on WHTZ, New York's Z100, is syndicated nationally by Premiere Networks on nearly 80 radio stations across the country and available digitally on iHeartRadio, reaching more than ten million monthly listeners. The show is the most listened to Top 40 morning show in the U.S. that consistently ranks #1 across multiple demographics and top markets. Broadcasting live from New York's Z100, Duran and his on-air crew entertain listeners with up-to-the-minute entertainment and pop culture news, celebrity guests, hit songs, and regular features such as the gossipy "Entertainment Report," the news-worthy "Headlines," and the ever-popular prank "Phone Taps."
"I am honored to be named Godfather for Norwegian Bliss," said Elvis Duran. "This incredible ship and all the innovative activities onboard, from the race track to Broadway shows, perfectly reflect the energy and excitement of our morning show and we are looking forward to bringing our loyal listeners along for this once-in-a-lifetime experience. I can't wait until she arrives next May!"
About Norwegian Bliss
At approximately 167,800 gross tons and accommodating 4,000 guests, Norwegian Bliss is currently being constructed at MEYER WERFT in Papenburg, Germany and is scheduled for delivery in Spring 2018. The third ship in the line's Breakaway-Plus class, Norwegian Bliss will be the first cruise ship custom-built with features and amenities for the ultimate Alaska cruise experience.
During her inaugural summer season, Norwegian Bliss will sail weekly seven-day Alaska cruises each Saturday from Pier 66 in Seattle, offering guests the premier way to see America's last frontier, while also providing all of the innovative features, entertainment, signature dining and onboard experiences that Norwegian Cruise Line is known for around the globe. The ship's itinerary will feature calls in Ketchikan, Juneau, Skagway and Victoria, British Columbia, along with scenic glacier cruising. Norwegian Bliss will sail her inaugural Winter season beginning in November 2018, sailing seven-day Eastern Caribbean cruises each Saturday from PortMiami, featuring calls in St. Thomas, US Virgin Islands; Tortola, British Virgin Islands and Nassau, Bahamas.
Norwegian Bliss' custom design will offer guests the freedom and flexibility to "Imagine Bliss" and create their ideal experience at sea, with a wide variety of accommodations including luxurious suites in The Haven by Norwegian®, Studio staterooms for solo travelers with virtual ocean views, and new connecting staterooms ideal for large groups and families traveling together. Norwegian Bliss will also feature two observation lounges, including the Horizon Lounge that is exclusive to guests of The Haven®, perfect for whale watching in Alaska or taking in sunsets in the Caribbean.
Norwegian Bliss will feature a two level electric-car race track, a first for a North American-based cruise ship, and an intergalactic, open-air laser tag course.
Norwegian Bliss will provide its guests with spectacular entertainment including the Tony-award winning musical, Jersey Boys, and an all-new exclusive, original musical theater show created and produced specifically for the ship. Norwegian Bliss will also feature brand-new dining concepts including the Texas Smokehouse, Q, and land favorites such as Starbucks. Continuing its tradition of featuring original artwork on its ship's hulls, Norwegian Cruise Line has commissioned Wyland, one of the world's premier marine life artists, to design the hull art for
Norwegian Bliss; the artwork will feature images of humpback whales, found in every ocean around the world. The ship's hull will serve as a large canvas to showcase the importance of conservation and ocean preservation.
About Norwegian Cruise Line
Norwegian Cruise Line is the innovator in cruise travel with a 50-year history of breaking the boundaries of traditional cruising. Most notably, Norwegian revolutionized the cruise industry by offering guests the freedom and flexibility to design their ideal cruise vacation on their schedule with no set dining times, a variety of entertainment options and no formal dress codes. Today, Norwegian invites guests to enjoy a relaxed, resort-style cruise vacation on some of the newest and most contemporary ships at sea with a wide variety of accommodations options, including The Haven by Norwegian®, a luxury enclave with suites, private pool and dining, concierge service and personal butlers. Norwegian Cruise Line sails around the globe, offering guests the freedom and flexibility to explore the world on their own time and experience up to 28 dining options, award-winning entertainment, superior guest service and more across all of the brand's 15 ships.
Recently, the line was named "Europe's Leading Cruise Line" for the tenth consecutive year, as well as "Caribbean's Leading Cruise Line" for the fifth time and "North America's Leading Cruise Line" for the second straight year by the World Travel Awards. Norwegian's next new build, the highly anticipated Norwegian Bliss, will be delivered in April 2018 featuring many firsts-at-sea for the global market including the largest race track at sea, award-winning Broadway entertainment, two observation lounges for guests to enjoy stunning ocean and glacier views and more. Norwegian will introduce an additional new "Breakaway Plus" Class cruise ship in 2019 and has four additional ships on order for delivery beginning in 2022, with an option to introduce two more ships in 2026 and 2027.
About iHeartMedia
With over a quarter of a billion monthly listeners in the U.S. and over 122 million social followers, iHeartMedia has the largest national reach of any radio or television outlet in America. As the leader in multiplatform connections, it also serves over 150 local markets through 858 owned radio stations, and the company's radio stations and content can be heard on AM/FM, HD digital radio, satellite radio, on the Internet at iHeartRadio.com and on the company's radio station websites, on the iHeartRadio mobile app, in enhanced auto dashes, on tablets, wearables and smartphones, and on gaming consoles.
iHeartRadio, iHeartMedia's digital radio platform, is the fastest growing digital audio service in the U.S. and offers users thousands of live radio stations, personalized custom artist stations created by just one song or seed artist and the top podcasts and personalities. With over 1.4 billion downloads, iHeartRadio reached 100 million registered users faster than any other radio or digital music service.
iHeartMedia's platforms include radio broadcasting, online, mobile, digital and social media, podcasts, personalities and influencers, live concerts and events, syndication, music research services and independent media representation. iHeartMedia is a division of iHeartMedia, Inc. (PINK: IHRT). Visit iHeartMedia.com for more company information.
How To
Contact Us
For Investor Relations inquiries please contact
Andrea DeMarco
Head of Investor Relations
ademarco@ncl.com
(305) 468-2463

Corporate Mailing Address
7665 Corporate Center Drive
Miami, FL 33126