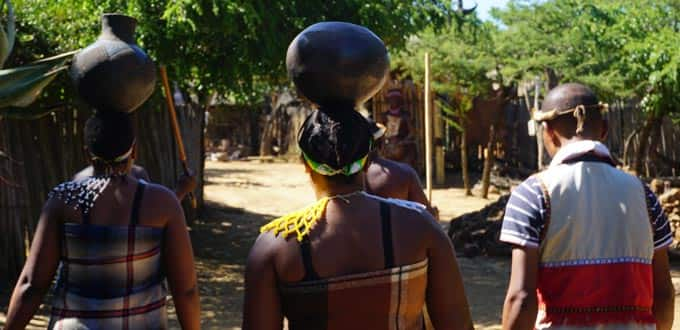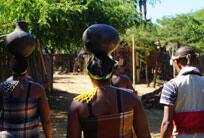 Shakaland
Richards Bay, South Africa
Duration 7 hrs
Relive the history of King Shaka, King of the Zulus, during this enriching visit to the tribal village of Shakaland.
Journey through Empangeni en route to Shakaland, the location where the movie Shaka Zulu was filmed. Upon arrival, you'll meet your Zulu guide and share welcome refreshments before being invited to relive the momentous and turbulent days of King Shaka, a revered early 19th-century Zulu ruler. During your walking tour through the Zulu village, see a variety of displays, including women doing beadwork, weaving mats, sculpting pottery, baking bread and brewing beer. You'll also watch the men make a spear and shield as well as build a beehive-style grass hut.
Enter the chief's hut to observe Zulu dancers performing rapturous rhythmic drum dances and witness a ritual done by the traditional healer, or sangoma, followed by a short audio-visual presentation and some time at your leisure to browse the village's enticing curio shops. Delight in a traditional Zulu buffet lunch at the Kwabonamanzi restaurant overlooking the Umhlatuze Lake, a satisfying finale to your fascinating outing.
Need to Know:
Note: This tour includes walking over reasonably level gravel surfaces. There can be muddy surfaces to negotiate. The tour is not suitable for guests who utilize a wheelchair. Guests with mobility concerns are cautioned to evaluate their personal level of ability and stamina. This is a "living" museum. As such, it is customary for unmarried Zulu women to be uncovered from the waist up. Guests are expected to tip the Zulu dancers for taking their photographs or filming them. Only local currency is accepted at the curio shop. The order of sites viewed or visited may vary. Travel time from the pier to Shakaland is approximately 1 ½ hours each way by coach.
Adult from: $179.00 USD
Child from: $179.00 USD
Meal