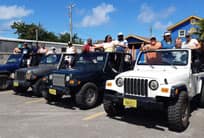 Adventure Jeep And Beach
Nassau, Bahamas
Duration 3 1/2 hrs
Drive a Jeep through downtown Nassau and its suburbs, taking in attractions such as the caves where the indigenous Lucayans once lived and then pausing to relax at the beach..
After a short walk from the pier, you will hop into a Jeep Wrangler and hit the open road. There is plenty to see during your time behind the wheel, starting with downtown Nassau, the capital, largest city and cultural hub of the Bahamas..
You will drive through the colorful shopping district on Bay Street and see highlights such as palm-dotted Rawson Square, lovely government buildings such as the Supreme Court and the pink-hued House of Assembly. You will then head west past lovely Cable Beach and on towards the Nassau Caves for a photo stop..
The Lucayans, the original residents of the Bahamas once lived in these caverns. Settlers later used the caves for religious services and the guano inside to fertilize their crops..
You will drive along JFK Drive, which recognizes President John F. Kennedy's 1962 meeting in Nassau to discuss Polaris, the United Kingdom's submarine-based nuclear-weapons program. The fabulous and sprawling Baha Mar resort is another Bahamian landmark that you will pass. .
Free time on one of Nassau's most inviting beaches follows, during which you might stroll along the shore, bask in the sun or simply admire the natural beauty and serenity of the sea. Then after a bountiful lunch at the Bahamian Grill, you will return to the pier..
Need to Know:
Note: Tour is priced per person, not per vehicle and you may be paired with other guests. Maximum 4 guests per vehicle. The minimum age to drive is 25 years with a valid driver's license. The minimum age to participate is 5 years of age (there are no child car-seats). There are stops on the tour where you will be able to switch drivers. Maximum weight limit is 300 lbs. per person and maximum height is 6'2".
Adult from: $169.00 USD
Child from: $129.00 USD