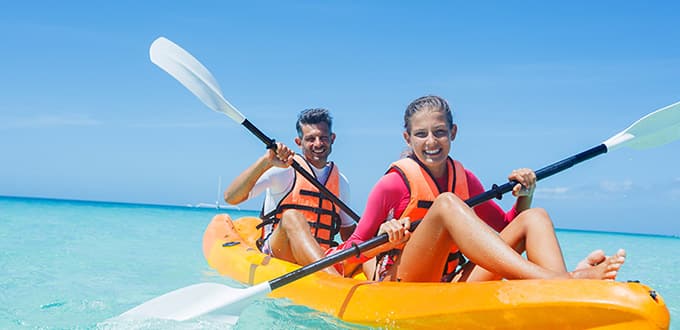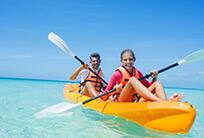 Lucaya Kayak & Beach Tour
Grand Bahama Island, Bahamas
Duration 6 hrs
A short narrated bus ride from the Freeport Harbor will bring you to one of the happiest places on Grand Bahama, Lucayan National Park. Lucayan National Park boasts one of the largest underwater cave ecosystems in the world. You'll learn about the park's unique geological features and ecosystems on this fascinating eco-tour in a kayak.
After receiving paddling instructions, your guide will assist you to safely board your kayak. Then, board your kayak and paddle along the mangrove forest, and marvel at natural geological wonders. After kayaking, we are on our way to enjoy the sun, sand and sea at Gold Rock Beach. Here, you have the opportunity to swim in the turquoise waters, stroll the beautiful beach, and spread a towel on the powdery white sand to relax.
After your relaxing beach experience, take a bus ride over to the beautiful Garden of the Groves where you can meander through the garden, shop or grab a bite to eat.
Need to Know:
Note: Min age 6 and max weight combined 480 lbs. Wear your bathing suit and bring a towel. No flip-flops. Bring water and sun protection. Food and beverages are not included and are at guest's expense.
Adult from: $149.00 USD
Child from: $119.00 USD
Weight

Age