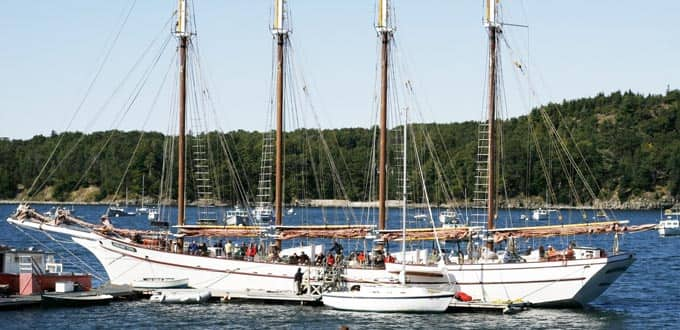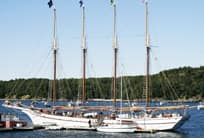 Bar Harbor by Land & Sea
Bar Harbor, Maine
Duration 3 1/2 hrs
Discover the history of the privileged Bar Harbor area by driving through town and around gorgeous Acadia National Park before heading out to sea on a 151-foot schooner.
After departing from the pier, you will settle in for a scenic and enlightening drive through Bar Harbor. The town became one of New England's most exclusive destinations at the turn of the 20th century, attracting the likes of the Rockefellers, Carnegies and Vanderbilts, who built opulent summer "cottages" on Frenchman Bay. At Village Green, you will see Bar Harbor's iconic cast-iron town clock and 19th-century bandstand.
Continuing on into Acadia National Park, you will follow a stretch of the 27-mile road that loops through the spectacularly beautiful park. In time, you will pause for photos at one of the most dramatic overlooks. The exact one will depend on the conditions and time of day.
You might watch the crashing surf spew as high as 40 feet at Thunder Hole, gaze out over gorgeous Sand Beach or stand atop Cadillac Mountain. From this highest point along the North Atlantic seaboard, you will enjoy a bird's-eye view of Bar Harbor and the Porcupine Islands.
Back in town, you will board the Margaret Todd, a spacious four-masted schooner and head into Frenchman Bay for a closer look at the offshore wonders. As you sail around the immensely scenic island-dotted bay, the you will hear commentary describing the points of interest and wildlife such as porpoises and bald eagles.
Need to Know:
Note: This tour includes limited walking, mainly at the guest's discretion. It is not available to guests who utilize a wheelchair. Those guests with mobility concerns are cautioned to evaluate their personal level of ability and stamina. Casual layered clothing and comfortable, flat walking shoes are suggested. The sailing portion of the tour will vary in duration from 1½ - 1¾ hours depending on wind and weather. The schooner may be under sail and/or motor power depending on wind conditions. Tour operates rain or shine.
Adult from: $129.00 USD
Child from: $109.00 USD