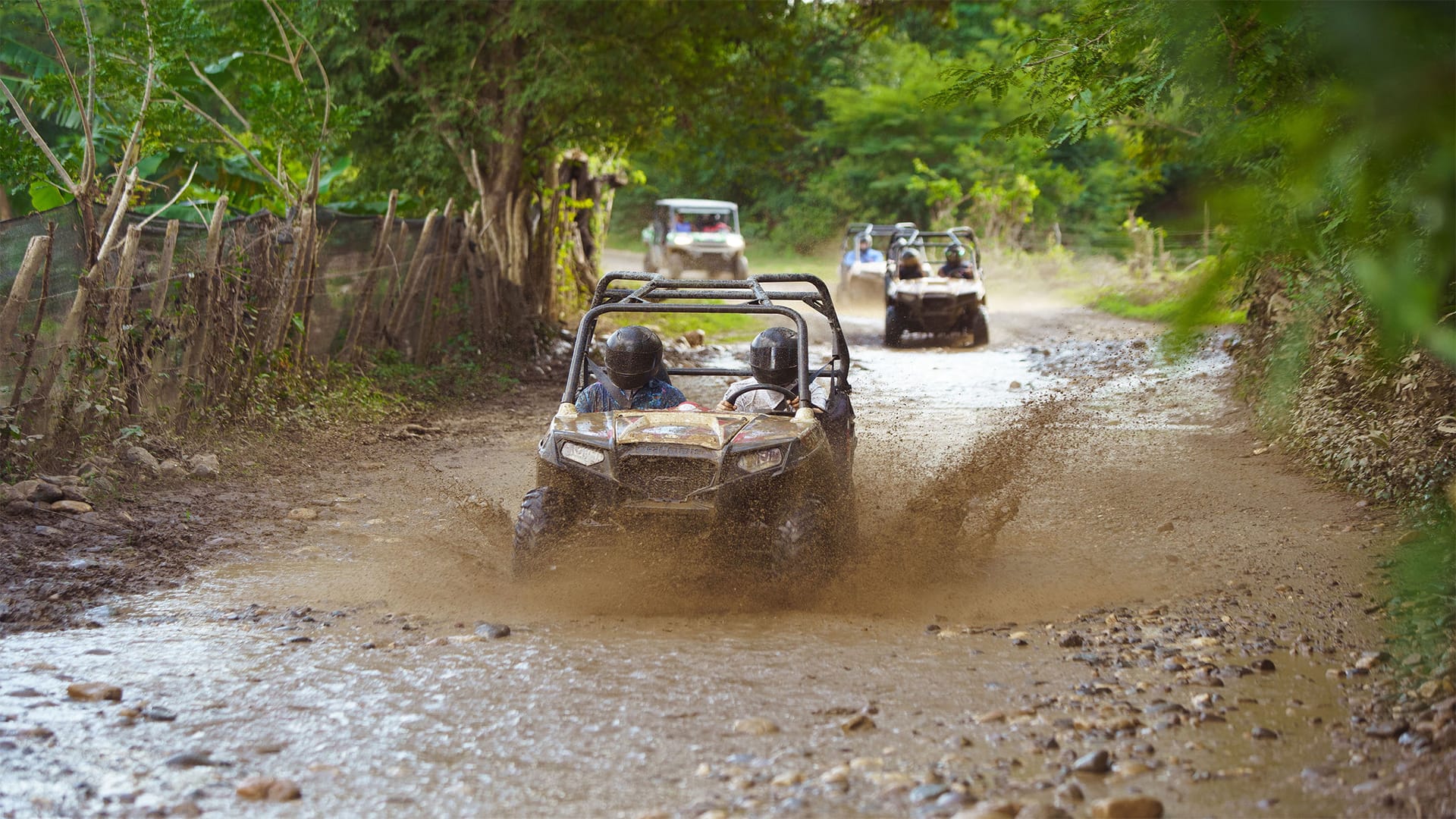 Damajagua's Waterfalls & Buggies
Puerto Plata, Dominican Republic
Duration 6 hrs
OVERVIEW
Race through the countryside in an all-terrain vehicle and enjoy a cool mountain stream and its tumbling cascades. The Damajagua River is the waterfalls' source and the setting couldn't be more beautiful. After hiking through the jungle, you will arrive at a series of cascades that comprise this natural wonder. You will be free to swim in the numerous mountain pools, slide down cascades with slick rock chutes and even jump off some of the waterfalls into the refreshing water below. This area is only accessible on foot, which limits the number of other adventurers. The adrenaline rush will continue once you ease into an ATV and tear off into jungle. You can take the wheel or ride in the passenger seat. Either way, it will be exhilarating, especially if it's been raining because the mud will be flying. Although you will be mostly off road, you will stop in a village to interact with the locals.
HIGHLIGHTS
• Enjoy a refreshing swim in the pools below the Damajagua waterfalls
• Slide down the slick chutes that the cascades have carved into the rocks.
• Marvel at the secluded pristine setting, which can only be reached on foot.
• Race through the countryside in an open-air ATV built for adventure.
HELPFUL HINTS
• Dress in weather-appropriate clothing.
• Bring a swimsuit and towel.
• Wear flat comfortable walking shoes.
Need to Know:
Note: Participants must be at least 8 years of age to participate on the tour, but 16 years of age to drive the buggy. Driver and passenger will have an opportunity to switch positions during the tour so both guests can drive the buggy. Valid driver's license must be presented to drive the vehicle. 2 & 4 Passenger Polaris vehicles available.
Adult from: $189.00 USD
Child from: $169.00 USD
Age