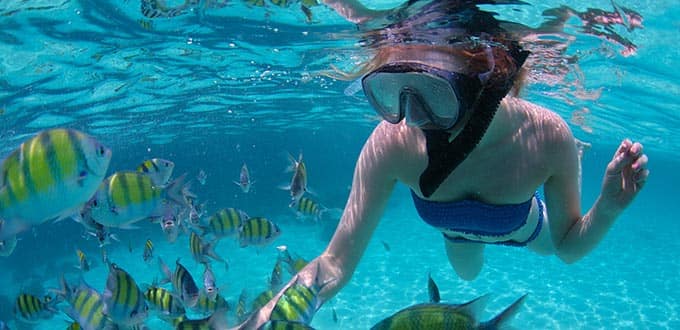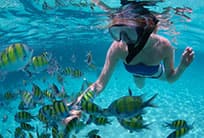 Barrier Reef Snorkel
Harvest Caye, Belize
Duration 2 1/2 hrs
Snorkel the azure waters adjacent to the of Belize's Barrier Reef, the world's largest living barrier reef. This is a shallow water entry, well suited for beginners and intermediate snorkelers. Depart from the Harvest Caye Marina on one of our comfortable snorkel vessels for the short scenic ride to a beautiful site along the reef. This location is teeming with multitudes of colorful reef fish, co-habiting among the beautiful hard and soft coral formations, intermingled with sponges, sea fans, and delicate sea anemones.
Possible sightings of spotted eagle rays and schools of larger fish are quite common, large starfish, queen conchs, and sea cucumbers also call this patch of the reef home. After snorkeling, re-board your boat and enjoy the return trip while listening to Caribbean rhythmic vibes. After returning to the pier, as you step off the boat, you can pick up your complimentary rum punch.
Need to Know:
Note: The minimum age to participate is 8 years. The maximum weight is 275 lbs. Pregnant women past 1st trimester, guests with preexisting respiratory or heart conditions, neck, back, or joint issues are not allowed to participate. All guests must be mobile and able to swim. Guests should consider their physical fitness level and medical history when determining whether this tour is appropriate. Guests with cardiac conditions should take particular caution when selecting a tour with snorkeling/swimming elements. Guests must be able to climb in and out of the boat on a 3 step vertical dive ladder. Guests should wear swimsuits under clothes, bring a towel, sunblock, hat or cap. Bring a camera, cash for souvenirs. Guests who go ashore do so with the understanding that they will be mixing with members of the general public.
Adult from: $119.00 USD
Child from: $99.00 USD
Age

Weight