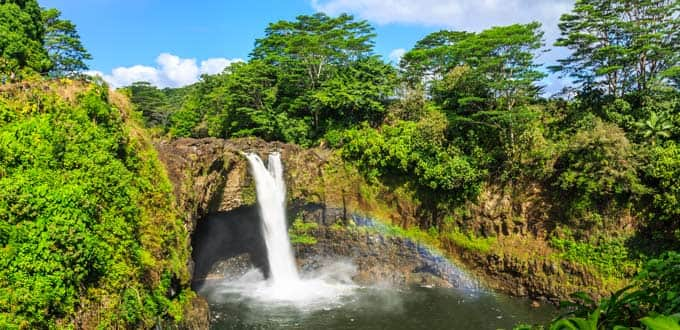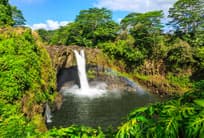 Crater Hike & Hilo Waterfalls
Hilo, Hawaii
Duration 6 hrs
See the island's most spectacular natural wonders by hiking to Kilauea Crater and by stopping at Rainbow Falls.
After departing from the pier, you will enjoy a meandering drive south into Hawaii Volcanoes National Park. The terrain and natural diversity here are so extraordinary that UNESCO deemed the park both a World Biosphere site and a World Heritage site.
A brief stop at the visitor center will provide an introduction to the park, after which you will begin a hike to Kilauea Crater. The volcano has been steadily erupting since 1983 and the surrounding countryside is extraordinarily dramatic. The rising steam caused by ground water seeping onto the hot volcanic rocks makes the setting all the more surreal and primeval.
In contrast to the island's natural wonders, you will next stop at the Mauna Loa Macadamia Nut Farm. You might see how the nuts are processed and packaged and then shop for items such as roasted macadamias, chipotle-flavored nuts and dark chocolate-covered macadamias.
Afterwards, you will pause for photos at magnificent Rainbow Falls, which is named for the rainbows that often form in the surrounding mist. According to legend, the cave beneath the waterfall was the home of Hina, mother of the demigod Maui.
Need to Know:
Note: All participants must be fully mobile and capable of hiking 3 miles over hills and uneven terrain unaided (scooters, wheelchairs, walkers cannot be accommodated). Participants must be able to climb in and out of a lifted 15 pax van or mini bus unaided.
Adult from: $119.00 USD
Child from: $119.00 USD