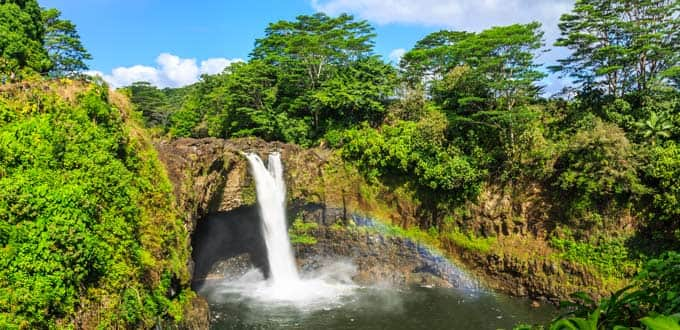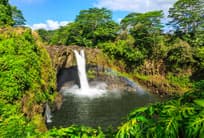 Crater Hike & Hilo Waterfalls
Hilo, Hawaii
Duration 6 hrs
See the island's most spectacular natural wonders on this 6 hour adventure by hiking 4.5 miles through Kilauea Iki Crater and visiting Rainbow Falls.
After departing from the pier, you will enjoy a meandering drive south into Hawaii Volcanoes National Park. The terrain and natural diversity here are so extraordinary that UNESCO deemed the park both a World Biosphere site and a World Heritage site.
A brief stop at the visitor center will provide an introduction to the park, after which you will begin a 4.5 mile hike into Kilauea Iki Crater. The volcano has been steadily erupting since 1983 and the surrounding countryside is extraordinarily dramatic. The rising steam caused by ground water seeping onto the hot volcanic rocks makes the setting all the more surreal and primeval. After the hike you will visit the dramatic Steam Vents area with its amazing view into the vast new crater formed by 2018 outflows of Lava. Water and granola bars are available at this point.
After the return drive to Historic Hilo, you will pause for photos at magnificent 80ft Rainbow Falls, which is named for the Rainbows that often form in the surrounding mist. According to legend, the cave beneath the waterfall was the home of Hina, mother of the demigod Maui...Relaxed by falling water we will head to Downtown Hilo for Local favorite treats of Shave Ice and other delicacies as well as the rich variety of the Farmers Market with its flowers and local fruits. From here it is a short ride back to the ship in time for a late lunch and maybe a nap after your day's exertion.
Need to Know:
Note: This is a Real Hike - all participants must be fully mobile and capable of hiking 4.5 miles down into a crater and back out over some rugged and uneven terrain unaided (scooters, wheelchairs, walkers cannot be accommodated). Participants must be able to climb in and out of a lifted 15 pax van or mini bus unaided. As Hawaii moves away from single use plastic bottles, we provide filtered Ice water dispensed from Igloo coolers and compostable paper cups, your own containers encouraged. National Park Service provides sand filtered water at several stations. As of Oct.1st 2019, there is no red lava anywhere on the Island, should red lava occur this hike will be modified to incorporate safe viewing where possible, and you will be notified of changes on the day of your hike.
Adult from: $119.00 USD
Child from: $119.00 USD