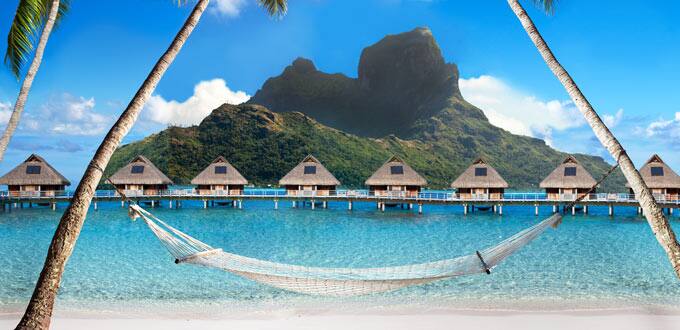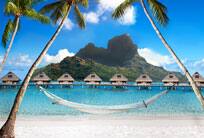 Romantic Escape - Single
Bora Bora, French Polynesia
Duration 2 Days/1 Night
Known as the most romantic island in the world, Bora Bora is surrounded by an inspiring lagoon, resembling an artist's palette of blues and greens. For most visitors to Bora Bora, it's love at first sight!
Lush, tropical mountain slopes and valleys blossom with hibiscus, and palm-covered islets circle the illuminated lagoon like a delicate necklace. Perfect white-sand beaches give way to emerald waters, where colorful fish animate the coral gardens. The ambiance couldn't be more romantic, especially within luxury resorts such as the Hotel InterContinental Bora Bora Le Moana Resort.
DAY ONE
After disembarking the ship, you will transfer by bus to the Hotel InterContinental Bora Bora Le Moana Resort.
Located on the famous Matira Point along the island's most beautiful beach, the InterContinental Bora Bora Le Moana Resort is a friendly hotel adorned with a crystal-clear lagoon.
The resort's overwater bungalows share a southeastern view of the outstretched lagoon and the nearby islands of Raiatea and Taha'a and each features a glass coffee table, providing your own private aquarium with access to the lagoon below as well as a private ladder into the lagoon.
Prior to check in you may wish to have lunch at the Vini Vini Bar. Lunch is on your own. Check in is at 3:00pm and the remainder of the day is yours to enjoy as you please.
Relax on the terrace of your overwater bungalow admiring the views of the surrounding lagoon and mountain peaks. Indulge in the services at the spa. Stroll the idyllic beach, pausing every so often in the shade of a swaying palm. Take an invigorating dip in the swimming pool. Or if you are feeling ambitious, enjoy water sports such as an outrigger canoe ride or snorkeling in the sea's crystal-clear waters. Non-motorized water toys are included in the cost of the program. This is your time in paradise with no schedule to follow other than your own.
In the evening, as the resort becomes illuminated with soft lighting, the atmosphere becomes even more romantic and memorable. The ambiance is ideal for dinner which is included at the resort. Afterwards, feel free to stroll about the resort before retiring in your thatched-roof bungalow that's perched over the water.
DAY TWO
Wake up to another day in paradise. Enjoy breakfast in the resort restaurant and some time at leisure before checking out and being transferred by bus back to the ship's tender pier.
Land Program Step by Step:
Please note: The order of sites visited may vary to avoid congestion. All program details and the timings indicated below are approximate, given here for general reference purposes and subject to change. Final itineraries with the most up to date details will be provided by the Shore Excursion Team once you board the ship. Please review your final itinerary carefully for any amendments.
TRANSFER DETAILS (subject to change and dependent on ship's arrival / departure times):
Day 1
• 1:00pm Pick up from the tender pier, transfer by bus
• 3:00pm Official check-in time at the hotel
Day 2
• 11:00am Check out
• 11:30am Return bus transfer from hotel to the tender pier
Expected Weather:
The climate on the Island of Bora Bora and the rest of the Society Islands is considered tropical and can be divided into two basic seasons: the wet season and the dry season.
The wet season (November through April) is the Polynesian Summer and accounts for approximately three-quarters of the annual rainfall of French Polynesia. The humidity during this time can be quite heavy and muggy and cloud cover is common. Storms are frequent, brief and unpredictable. Temperatures generally range from 27 - 30 degrees C (80-86 degrees Fahrenheit), with the hottest months being February and March.
By contrast, the dry season (May through October) is the Polynesian winter. Temperatures generally range from 24-28 degrees C (75-82 degrees Fahrenheit) and rain is rare.
Temperature fluctuations from day to night are minimal.
What to Bring:
Personal effects for one night – don't forget your swimsuit! Dress is casual however the trend is more elegant casual for dinner.
Currency:
Euro
Accepted Credit Cards at the Resort:
Visa, Mastercard, American Express, Diners Club, JCB
Electricity:
European plugs. 220 volts. We recommend bringing a universal travel adaptor for electric devices
Documents and Visa Requirements:
Please ensure that you bring your passport with you for the overnight program.
Included:
• Roundtrip bus transfers between Vaitape and Hotel InterContinental Bora Bora Le Moana Resort
• 1-night - overwater bungalow at Hotel InterContinental Bora Bora Le Moana Resort
• 3 course dinner (1 bottle of house red wine per couple)
• American breakfast including juices, tea and coffee
• Non-motorized watersports
• Municipal tax
Over Water Bungalow Facilities:
Air Conditioning, Bathtub, Bathrobe, Daily Bottle of Mineral Water, Cable TV, Ceiling Fan, Instant Coffee/Tea Facilities, Movies (Channel or DVD), Hair Dryer, Iron, Minibar filled on request, Private Bathroom, In Room Safety Box, Shower, Outdoor smoking only, Telephone, Furnished Terrace, Turndown service
Not Included:
• Beverages
• Lunch on either day
• Mini-bar consumption in the rooms
• Spa treatments
• Motorized watersports
• Personal laundry
• Telecommunications
• Any other items of a personal nature
• Gratuities
• Any other discounts or promos offered by NCL including but not limited to Latitude and Free at Sea discounts
Please note: Land programs that encompass multiple days ashore customarily include extensive and prolonged activity, while those of shorter durations typically have more moderate activity levels. However, each program varies, and participants should be prepared to negotiate a mixture of surfaces which may include inclines, cobblestones, sand and gravel or natural paths. There may also be a need to climb steps or stairs on occasion. Guests who utilize a wheelchair and those with mobility concerns are advised to check with the cruise line in advance to see if any portion of the tour program may not be considered suitable for their individual situation. Weather appropriate clothing, hats, sunglasses, and flat, comfortable walking shoes are generally recommended. All land programs are capacity controlled and subject to availability. Programs falling under the minimum number of required participants are subject to cancellation. Pricing listed is also subject to change to meet unexpected cost increases for transportation, land arrangements or currency fluctuations. Not combinable with any other discounts or promos including but not limited to Latitude and Free at Sea discounts. Once purchased, pricing is guaranteed and not subject to change. Mid-cruise overland programs must be purchased no later than 60 days prior to your sail date. Cancellations made within 60 days or less prior to the sail date are subject to 100% cancellation penalty.
Need to Know:
One room is included in the per person single or double cost of this program and will be assigned for any bookings up to 2 guests regardless of cabin size on the ship. If additional bedding or rooms are required for this program, please contact Norwegian Cruise Line in advance of travel to request and price accordingly. Requests must be received at least 65 days before departure and confirmations will be based on availability at the time of request.
Adult from: $1,599.00 USD
Child from: $1,599.00 USD
Passport