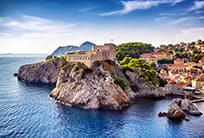 Game of Thrones – Venture Through King's Landing
Dubrovnik, Croatia
Duration 4 hours
Visit several of Old Town's most iconic sites, which gained even greater fame after serving as locations for the fictional capital King's Landing in "Game of Thrones."
After departing from the pier, you will soon arrive in the oldest section of Dubrovnik, a revered UNESCO World Heritage Site. Fans of the TV series "Game of Thrones," which is based on George R. R. Martin's "A Song of Ice and Fire" fantasy novels, will recognize this part of Dubrovnik as King's Landing, the fictional capital of the Seven Kingdoms.
Your first stop will be imposing Lovrijenac Fortress, located just outside the medieval walls that encircle Old Town. Known as Dubrovnik's Gibraltar, the 11th-century fortress perches atop a craggy rock overlooking the sea, which represented Blackwater Bay in the books.
Continuing on, you will enter Old Town and make your way to the defensive walls to the south. After climbing the steps, you will walk along the stone battlements, which afford extraordinary views of the sea and the inner city. These walls appeared in numerous scenes in "Game of Thrones"; they were particularly prominent in the Battle of Blackwater Bay.
Later, you will enjoy free time within Old Town, where you may explore other sites that you may recognize from the series. For instance, the Jesuit Staircase was where Cersei Lannister began her Walk of Shame in Season Five, and many of the show's market scenes were filmed along St. Dominic Street. Following free time, you will return to the pier.
Need to Know:
Note: This tour involves approximately two hours of compulsory walking and is therefore unsuitable for passengers with limited mobility. Lots of steps will be encountered at each of the venues visited. Passengers will have approximately 60 minutes of free time, where walking is at the discretion of the individual. Order of sites may vary. We recommend that you dress in layers, wear comfortable shoes, hat, sunglasses and bring bottled water. Minimum age to participate in this tour is 8.
Adult from: $179.00 USD
Child from: $159.00 USD
Age