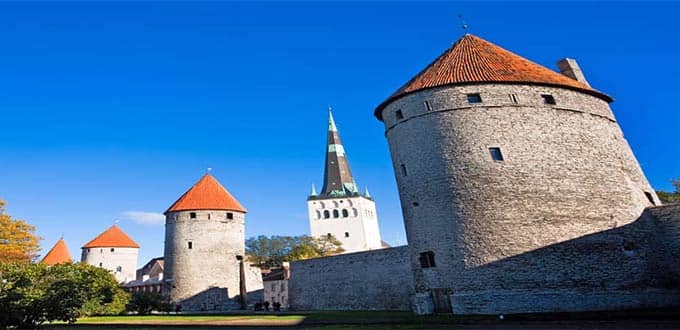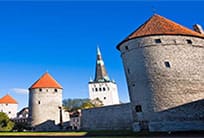 The Best of Medieval Tallinn
Tallinn, Estonia
Duration 6 hrs
This full day tour starts with a visit to the Song Festival Grounds with a capacity for 300,000 spectators and up to 30,000 performers sing. A short stop will provide you with an impression of the festivals that are held here every five years. Continue to Pirita, the beachside location of the yachting complex built for the 1980 Olympic Games where the 16th century ruins of St. Bridget's Convent can also be seen. A short drive follows to Tallinn's Upper Town, passing ancient walls and tower gateways. Disembark your coach at Tall Hermann Tower from where flies the national blue, black and white flag. Walk up Toompea Hill to Palace Square to view the Baroque Toompea Castle, now the residence of the Estonian Parliament, and to visit the Russian Orthodox Alexander Nevsky Cathedral, a dominating feature of Upper Town's city skyline and home to numerous golden icons and mosaics.
Walk along Tallinn's medieval cobblestone streets and proceed to the scenic viewpoint over the Lower Town rooftops, where there will be limited time for shopping in the small shops. Descend Short Leg Street to the Lower Town for an independent visit to Town Hall Square and view the exterior of the Gothic Town Hall. Your lunch will be served at one of Tallinn's typical Old Town restaurants followed by a concert of medieval music in Holy Spirit church. Continue your walk along Catherine's Passage, where shopping and browsing opportunities at the local craft workshops (including glass, leather, millinery and ceramic wares) await you. Return to the coach for the drive back to your ship.
Need to Know:
Note: Guests must be able to walk approximately two miles over uneven surfaces and cobblestone streets, plus several inclines with approximately 90 steps. Time permitting; guests will have approximately 30 minutes for shopping and browsing. Tour order may vary but all mentioned sites will be covered.
Adult from: $149.00 USD
Child from: $79.00 USD
Meal