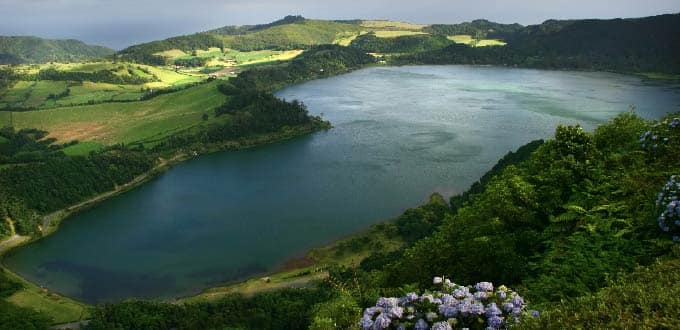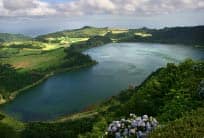 Hot Springs & Botanical Gardens
Ponta Delgada, Azores
Duration 4 3/4 hrs
Drive through Ponta Delgada along pleasant roads bordering agricultural areas, stretching across the island to Ribeira Grande. Ribeira Grande has a distinct feeling of Portuguese influence. Visit some of the most significant monuments of the city, including examples of Baroque architecture. Continue your drive along the north coast stopping at a tea factory to taste the tea on your way to the Pico do Ferro viewpoint. From this viewpoint you can observe the biggest and oldest volcanic crater at the bottom of which lays Furnas Lake and where the spa of Furnas Valley is located.
Once in the village of Furnas, visit Terra Nostra Garden, a luxuriant garden where the color of the flowers mixes with the exuberant vegetation originating from diverse continents. Next, visit the big phenomenon of the island, the hot springs. This is an area with diverse forms of volcanic activity with fumaroles spouting boiling water and medicinal mud - one of the most spectacular being Caldeira de Pero Botelho. Pass by Furnas Lake, with the Gothic profile of the Chapel Nossa Senhora das Vitorias reflected on its clear waters. Return to Ponta Delgada along the southern coast passing by Vila Franca do Campo, the former capital of the island.
Need to Know:
Note: Tour involves approximately 0.6 mile 1,000 meters) of walking on uneven ground, gravel and cobblestone. Ribeira Grande, tea factory, hot springs area and Terra Nostra Botanical Park, restrooms are not wheelchair accessible. Tour order may vary but all mentioned sights will be covered. Visibility from all scenic outlooks is dependent upon the weather and therefore cannot be guaranteed.
Adult from: $129.00 USD
Child from: $79.00 USD
Available languages: