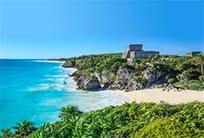 Tulum Mayan Ruins
Cozumel, Mexico
Duration 8 hrs
Come experience the world famous, magnificent ruins of the walled city of Tulum, the only Mayan city built right on the blue Caribbean Sea! After a 45-minute ferry to Playa del Carmen, your guide will lead you to an air-conditioned motor coach for a scenic and informative one-hour drive to Tulum.
Once there, your guide will escort you through the ruins giving a complete narration along the way. See the restored temples and some of the mysterious hieroglyphic writings still visible today. Visit the temple of the frescos, famous for the detailed carved figures and original paints. And perched on the edge of the Caribbean and rising high above all of the other ruins is "El Castillo" with its breathtaking view of the aqua-colored water below.
Need to Know:
Note: There is approximately 1 mile of walking over rocky uneven terrain. Ferry ride across may be rough at times and guests who suffer from motion sickness should take this into account. Guests who go ashore do so with the understanding that they will be mixing with members of the general public. Grounds at the ruins consist of uneven limestone and loose stones, and extra caution should be taken, so as not to slip and fall. There is a government tax of USD8-USD10 for the use of videography in all areas of the ruins, this includes taking videos with video cameras, tablets, or mobile phones. Tripods or professional video equipment are not permitted. The use of face masks is mandatory. A responsibility waiver has to be signed prior to participation.
Adult from: $129.00 USD
Child from: $89.00 USD
Family Recommended

Snack