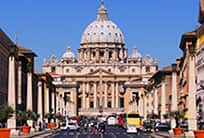 Ultimate Rome
Rome (Civitavecchia), Italy
Duration 10 hrs
You'll start in ancient Rome, with a visit to the city's iconic Colosseum. The Romans built amphitheaters all across their vast empire, but this is the largest and most important of them all. Its four levels of seats could hold 50,000 spectators for bloody gladiatorial combat and wild animal fights. At times the Colosseum was flooded and simulated sea battles were fought.
Next, stop at the Trevi Fountain. This massive Baroque extravaganza was built in 1732 and features Neptune, god of the sea, surging forward in his shell-shaped chariot. Afterwards, you'll walk to the Pantheon, where you can enter on your own and have free time for lunch. This is one of the best-preserved of all the ancient Roman structures, with the largest brick dome in the history of architecture.
In Vatican City admire the beauty of St. Peter's Square, and view some of the treasures of the world's largest church, St. Peter's Basilica during your brief visit. The Vatican Museum is home to masterpieces spanning the centuries, marvel at the Sistine Chapel, topped by Michelangelo's magnificent ceiling.
Need to Know:
Note: This is a fast-paced tour that requires an extensive amount of walking over cobblestone terrain and stairs. As this tour visits a religious site, please dress appropriately - no bare shoulders, shorts, or skirts above the knee. Large bags or backpacks aren't permitted in the Vatican. Expect large crowds at the Vatican and Sistine Chapel, especially during the summer months. The tour will not operate on Sundays as the Vatican is closed.
Adult from: $409.00 USD
Child from: $309.00 USD
U Tour