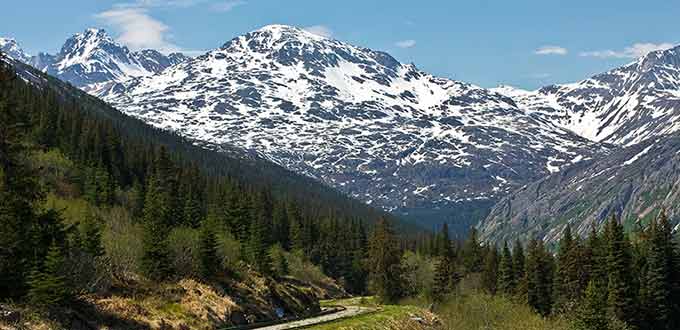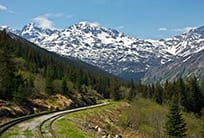 White Pass Railway & Yukon Expedition
Skagway, Alaska
Duration 8 1/4 hrs
This tour is a 65 mile journey into the Yukon! Climb aboard a deluxe motorcoach and experience the magic and the mystery of the famed Yukon Territory. Your adventure begins on the docks of Skagway, but soon you'll be climbing the South Klondike Highway to the top of the White Pass 3,292 feet above sea level. Majestic peaks, waterfalls, and glaciers can all be experienced and enjoyed on this incredible drive. Leaving the White Pass and the USA behind, you'll enter Canada and the unspoiled and untamed beauty of the Yukon Territory. Marvel at the chain of lakes that form the headwaters of the Yukon River, explore the rustic town of Caribou Crossing "Carcross", snap a quick photo of the world's smallest desert and enjoy the tales of the Klondike Gold rush provided by your guide throughout your journey.
A stop at the Caribou Crossing Trading Post is an opportunity to satisfy your wilderness appetite with a delicious chicken barbecue lunch complete with all-you-can-eat homemade donuts. After your meal, tour the Yukon's most extensive Wildlife Museum and then on to the Dog Musher's Village where you can visit with Iditarod dog mushers and take pictures with the sled dogs and husky puppies or, for an extra fee, join them for a dog cart ride with the actual Iditarod and Yukon Quest dogs. Kids and adults alike will also enjoy the petting farm. Once back at Fraser, British Columbia, you'll board the White Pass and Yukon Route Railroad for a truly unforgettable ride on this historic and breathtaking narrow gauge railroad.
Need to Know:
Note: All guests must carry a valid passport as this tour will be crossing both U.S and Canadian borders. Guests who go ashore do so with the understanding that they will be mixing with members of the general public.
Adult from: $254.00 USD
Child from: $134.00 USD
Meal

Passport

Family Recommended

Accessibility