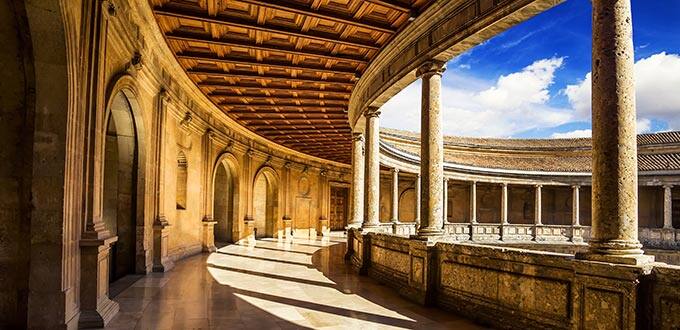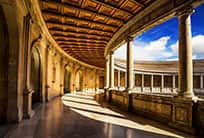 Granada's Soul of Andalucía
Granada (Malaga), Spain
Duration 9 hours
Discover the charms of Granada, the architecturally stunning capital of the Andalusia region, by exploring a magnificent palace, the Royal Chapel and the city's oldest quarter.
After departing from the pier, you will settle in for scenic drive inland to Granada, a city likely named for the Spanish word for pomegranate, a fruit so abundant it is depicted on Granada's coat of arms. Or Granada may have derived from its Moorish name, as the city was the Moors' last stronghold before falling to Spain's Catholic monarchs in 1492.
Granada features a wealth of extraordinary architecture such as your first stop, the Carlos V Palace within the Alhambra complex. Construction on the palace began in the early 16th century, following a Renaissance ground plan with a circular courtyard within a square building—the only one of its kind in Spain. Amazingly, a monarch has never lived in the palace, nor did it even have a roof until 1957.
Walking a bit farther, you will soon arrive in the labyrinthine streets of the Albayzin quarter (down part of the quarter), the city's oldest section. UNESCO has deemed it a World Heritage site for its harmonious blend of Moorish and Andalusian architecture.
Nearby, you will find the glorious Royal Chapel, the final resting place of Spanish monarchs such as Queen Isabella and Kind Ferdinand. Be sure to see the chapel's mausoleum, spectacular altarpieces and ornate grilles before enjoying free time and perhaps lunch on your own in the surrounding historical area.
Afterwards, you will drive back to Malaga.
Need to Know:
Note: Tour does not include tickets inside the Alhambra-General Life area. Due to traffic conditions, the tour duration may vary from 8-9 hours. This tour includes approximately 2½ hours of walking, some of it over cobblestone surfaces plus any additional walking at the guests' discretion during free time. The sights on this tour are not wheelchair accessible and therefore, it is not available to wheelchair guests and those guests with mobility concerns are cautioned to evaluate their personal level of ability and stamina. Comfortable, flat walking shoes are recommended.
Adult from: $129.00 USD
Child from: $99.00 USD
Family Recommended
Available languages: