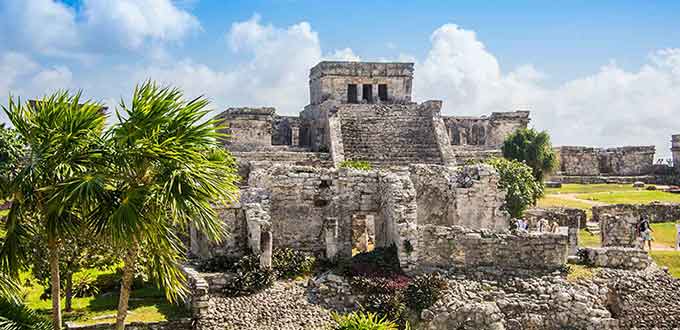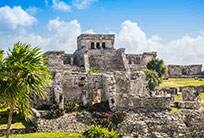 Tulum Mayan Ruins
Cozumel, Mexico
Duration 7 hrs
Board your comfortable fast ferry for a 35 minute ride across the Caribbean to the famous resort town of Playa del Carmen , in mainland Mexico. Take an informative, narrated 50 minute ride to Tulum, via an air-conditioned motor coach. On your way to Tulum, you will enjoy a 30 minute restroom/shopping stop at MAYA HA, a local Mayan Cooperative Centre. Get ready to witness the evolution of Mexico through pieces of handcrafted art, find souvenirs, collector's items, clothing and reproductions of ancient Mexican art. Continue on to Tulum, where you'll be escorted by your English speaking guide, with a 45 to 50 minute narrated overview of the ancient walled Mayan City. Visit the famous castle ruins, situated on a spectacular 40 ft. bluff overlooking the Caribbean Sea.
You'll also admire the Temple of the Frescos known for its detailed carved figures and frescoes, depicting original Mayan paintings and writings, the Temple of the Descending God, the House of Chultun and the House of Columns. Don´t forget to photograph the giant iguanas sunning on temple walls. Experience and photograph the breathtaking views from the towering cliff. After your guided tour, enjoy 90 minutes of free time to relax or explore ruins on your own. At this point you'll return to Playa del Carmen to board your ferry and return directly to your ship.
Need to Know:
Note: There is approximately 1 mile of walking over rocky uneven terrain. Ferry ride across may be rough at times and guests who suffer from motion sickness should take this into account.
Adult from: £86,46 GBP
Child from: £54,49 GBP
Family Recommended