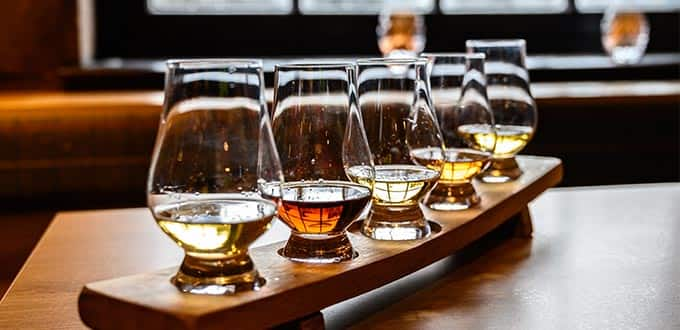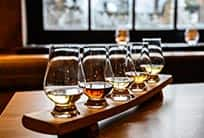 Go Local - The Two of Scotland's Best in Edinburgh
Edinburgh (Newhaven), Scotland
Duration 2 3/4 hrs
Experience the joys of two iconic Scottish activities: drinking a wee dram of whisky and playing the bagpipes.
After departing from the pier, you will soon arrive at a downtown venue for a whisky tasting. The Scotch Malt Whisky Society will host the event, in which the whiskies will be served at cask strength. That means the drams will not have been subjected to chill filtration or any other interference that would alter their tastes.
You will be served three drams, a dram being an eighth of a fluid ounce. The tasting will reveal the remarkable variety within the distillation processes and present the complexities that the different oak casks and aging times impart.
Before each dram is sampled, one of the society's members will describe the whisky's characteristics. Some whiskies might taste spicy and dry while others may be heavily peated with strong smoky flavors. The experience will be enlightening and entertaining.
Your immersion into the world of bagpipes will be just as fulfilling. Louise Marshall, one of Scotland's most renowned pipers, will lead your workshop. She has played for Queen Elizabeth II and Pope Benedict XVI, and her instruction will be based on years of experience.
Marshall will teach you basic chanter techniques, show you how bagpipes work and describe the instrument's history. If you wish to look the part, Scottish attire such as kilts, sporrans and feather bonnets will be available.
Need to Know:
This tour includes approximately 2 hours of moderate walking/standing; there will be some inclines and cobblestone surfaces to negotiate plus any additional walking at the guests' discretion during free time. The tour is available to wheelchair guests who have a collapsible wheelchair, and are able to make their own way on and off the vehicle and have an able-bodied companion to assist them. And for those with mobility concerns who are cautioned to carefully evaluate their personal level of stamina and ability. Weather appropriate clothing; sun cap; sunglasses; and flat, comfortable walking shoes are recommended. Children under the age of 18 will be offered light refreshments instead of Whisky but will not be allowed to enter the Members Room, where drinks can be purchased, and instead will remain in the Cask Room. This tour must be purchased no later than 3 days prior to the operating date
Adult from: £166,15 GBP
Child from: £166,15 GBP