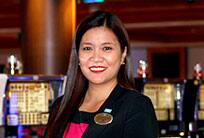 After earning my degree in Medical Technology in 1997, Star Cruises opened my door of opportunities in the cruising industry. This is a Singapore based cruise line that offered me a job in the casino as a Slot Attendant.
Since then, I enjoyed the luxury of travel and meeting people.
I started my career with Norwegian in 2006 and very grateful for the opportunity to utilize my tremendous passion for great service. My smile and positive attitude will welcome you in the Casino for a lucky start.
It's a pleasure to be of service to our Casino players and looking forward to meet you all onboard the Breakaway. I will be around to make your Casinos At Sea cruising experience a memorable one!