Norwegian Cruise Line Press Releases
Norwegian Breakaway Puts NYC on Ice with New York-Inspired Ice Bar
Ship's Ice Bar to Feature Big Apple Icons on Ice and New York-Inspired Specialty Drinks
Miami - Nov 06, 2012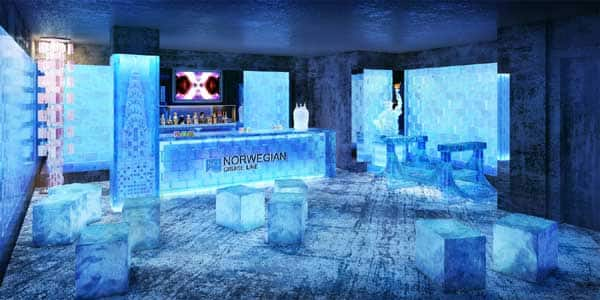 Norwegian Cruise Line announced today that Norwegian Breakaway, the line's newest ship, will offer a true Ice Bar on board, which will be kept at 17 degrees Fahrenheit and will feature ice sculptures of the Brooklyn Bridge, Statue of Liberty and the Chrysler Building to pay homage to New York City, its year-round homeport. The Ice Bar will also feature New York City-inspired specialty cocktails.
Following the successful introduction of the first-ever ice bar at sea on board Norwegian Epic, Norwegian Breakaway will also have a unique arctic-like frozen chamber, guaranteed to give guests the ultimate chill. The bar, seating and glasses will all be made entirely from ice. Located on deck eight, the Ice Bar will accommodate approximately 25 guests at a time who will be given hooded coats and gloves to keep warm, since the room's temperature will not rise above 17 degrees Fahrenheit.
Entrance to the Ice Bar can be reserved from 5:30 p.m.-10:30 p.m. nightly at a nominal cover charge that includes two signature cocktails. The Ice Bar will feature six New York City-inspired specialty drinks including:
- Spiked Apple Juice: Vodka, sour apple schnapps, melon liqueur and a splash of fresh lemon sour;
- Broadway Dreams: Vodka and ice wine chilled straight;
- Yellow Cab: Vodka, peach schnapps and orange juice;
- Times Square Lights: Citron vodka, blue curacao and fresh lemon sour;
- Central Park: Citron vodka, ice wine, and lemon/lime soda;
- Rock Center: Ice wine, vodka, blue curacao and club soda.
The Ice Bar will also serve two non-alcoholic beverages - the Lady Liberty, made of strawberry puree, pineapple juice and lemon juice, and the Coney Island, with orange juice, vanilla ice cream and milk. All drinks are served in specially-created glasses made entirely of ice.
Norwegian Breakaway
The 4,000 passenger Norwegian Breakaway will arrive in her year-round homeport of New York City in early May 2013. The ship will begin weekly summer seven-day cruises to Bermuda on Sunday, May 12, 2013. From October 2013 through April 2014, New York's ship will offer voyages from the heart of Manhattan to the Bahamas & Florida and the Southern Caribbean.
To date, the company has revealed the ship's groundbreaking design, including The Waterfront and 678 Ocean Place; a wide range of indoor and outdoor venues on three dynamic decks that will create a whole new complex at sea that enhances guests' connection with the ocean. Norwegian Breakaway's entertainment will include three Broadway shows: five-time Tony nominated ROCK OF AGES; the dance sensation BURN THE FLOOR; and CIRQUE DREAMS & DINNER JUNGLE FANTASY. The famed comedy troupe The Second City, Howl at the Moon dueling pianos, and New York's own Slam Allen will also perform on the vessel. Celebrity Chef and Food Network star Geoffrey Zakarian will also debut his first restaurant at sea on Norwegian Breakaway: Ocean Blue by Geoffrey Zakarian.
The top decks of Norwegian Breakaway will feature the first Aqua Park at sea with five full-size water slides, including twin Free Fall slides, the first ever at sea, and a three-story sports complex that includes the largest ropes course at sea, a nine-hole miniature golf course, basketball court, rock climbing wall and more.
The ship will also feature a rich mix of stateroom options including The Haven by Norwegian, comprised of 42 Suites at the top of the ship and 18 additional Suites located throughout the ship; the innovative Studios, designed and priced for solo travelers; the re-introduction of Oceanview staterooms, Balcony and Mini-Suites; along with Spa Balcony, Mini- Suites and Suites in close proximity to the spa.
For more information on the incredible features and accommodations on Norwegian Breakaway, visit www.breakaway.ncl.com. To book a cruise on Norwegian Breakaway, contact a travel professional, call Norwegian at 5411-5353-0580 or visit www.ncl.com. Comment on today's announcement on our Facebook page.
About Norwegian Cruise Line
Norwegian Cruise Line is the innovator in cruise travel with a 46-year history of breaking the boundaries of traditional cruising, most notably with the introduction of Freestyle Cruising which revolutionized the industry by giving guests more freedom and flexibility. Today, Norwegian invites guests to "Cruise Like a Norwegian" on one of 11 purpose-built Freestyle Cruising ships, providing guests the opportunity to enjoy a relaxed cruise vacation on some of the newest and most contemporary ships at sea.
Norwegian's largest and most innovative Freestyle Cruising ship, Norwegian Epic, debuted in June 2010 and has been named "Best Overall Cruise Ship" by the readers of Travel Weekly and "Best Ship for Sea Days" by Cruise Critic. Norwegian Cruise Line is the official cruise line of Blue Man Group, appearing for the first time at sea on Norwegian Epic, as well as the official cruise line of Legends in Concert, The Second City®, Howl at the Moon Dueling Pianos, and Nickelodeon, the number-one entertainment brand for kids. Cirque Dreams™ & Dinner is also featured on board Norwegian Epic as the first show of its kind at sea under a big top.
The Company has two 4,000-passenger vessels, Norwegian Breakaway and Norwegian Getaway, under construction for delivery in April 2013 and January 2014, along with one larger "Breakaway Plus" vessel for delivery in fall 2015. Known as New York's ship, Norwegian Breakaway will be the largest vessel to homeport year-round in the city, sailing to Bermuda for the summer beginning May 12, 2013. Norwegian Breakaway's features include hull art by legendary artist Peter Max, seafood restaurant Ocean Blue by famed New York chef Geoffrey Zakarian, and fitness classes and a retrospective display from the ship's iconic godmothers, the Rockettes®. The entertainment lineup includes three Broadway shows: Rock of Ages, Burn the Floor and Cirque Dreams™ & Dinner: Jungle Fantasy. Norwegian Getaway, the largest ship to homeport year-round in Miami, will sail Eastern Caribbean voyages beginning in February 2014. Sailings for both vessels are now on sale.
High resolution, downloadable images are available at www.ncl.com/pressroom. For further information on Norwegian Cruise Line, visit www.ncl.com, follow us on Facebook, Twitter, and Instagram @Norwegiancruiseline, Pin us on Pinterest, watch us on YouTube, or contact us in the U.S. and Canada at 888-NCL-CRUISE (625-2784).
# # #
How To
Contact Us
Andrea DeMarco
Head of Investor Relations
Phone: 5411-5353-0580
E-Mail: ademarco@ncl.com

For Investor Relations inquiries please contact
Andrea DeMarco
Head of Investor Relations
ademarco@ncl.com
(305) 468-2463

For Investor Relations inquiries please contact
Andrea DeMarco
Head of Investor Relations
ademarco@ncl.com
5411-5353-0580

Corporate Mailing Address
7665 Corporate Center Drive
Miami, FL 33126